Artichoke & Lentil Salad
By shahdan • October 23, 2016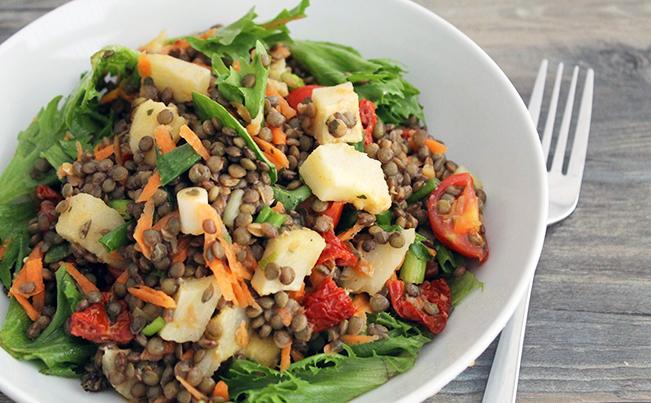 Full of colour, texture, and flavour, the Artichoke & Lentil Salad is the perfect way to eat real variety of nutritious food in one bowl… truly irresistible!
Ingredients
1 cup

black lentils - عدس بجبة

400 gram

artichoke (frozen) - خرشوف

3 medium

spring onion (thinly sliced) - بصلة خضراء

2 tablespoon

sun-dried tomatoes (chopped) - طماطم مجففة

1 large

carrot (grated) - جزرة

3 tablespoon

parsley (chopped) - بقدونس

1 handful

cherry tomatoes (sliced) - طماطم تشيري

1 handful

lettuce (or any green leaves like arugula or spinach - handtorn) - خس

DRESSING:

3 tablespoon

extra virgin olive oil - زيت الزيتون بكر

3 small

lime (juiced) - ليمون بلدي

2 tablespoon

vinegar - خل

1 medium

garlic clove (minced) - فص ثوم

1 teaspoon

ground cumin - كمون

sea salt (to taste) - ملح البحر

black pepper (to taste) - فلفل أسود
Step by step
Wash and drain lentils. Cook them in 3 cups of water until soft. Discard water and set aside to cool.
Meanwhile, cover frozen artichoke hearts with water, and cook on medium heat until soft (about 20 minutes).
Mix all dressing ingredients.
In a bowl, mix lentils with dressing. Add finely chopped spring onions, sliced sun-dried tomatoes, shredded carrots, sliced cherry tomatoes, and finely chopped parsley.
When artichokes have cooled, slice them into cubes or thin strips and add them to the salad. Cover and store in the fridge until serving time.
Right before serving, add some hand-torn lettuce leaves to the salad and mix.