Nutritious Freekeh with Chicken Dish
By Manal Massoud • June 23, 2016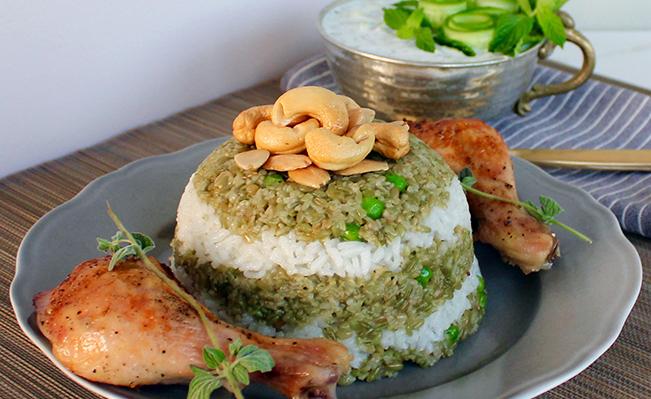 Extremely nutritious, freekeh is one of the healthiest grains. This grain can be easily cooked into a rich and sophisticated dish that is always a showstopper. What's also amazing about it is that you can add almost anything to this dish, from peas to carrots, based on your preferences. This dish can be even richer by adding a generous handful of roasted nuts like cashews and topped with lime-flavored chicken. The most important thing to make sure of, is having premium quality freekeh, it litreally makes the biggest difference. Freekeh is usually served with rice (optional) and with yogurt mixed with chopped cucumbers.
For more Middle-Eastern recipes like these, check out Manal Massoud's blog.
Ingredients
For the Freekeh:

2 cup

freekeh - فريك

4 cup

chicken broth/stock (warm) - مرقة دجاج

1/4 cup

vegetable oil - زيت نباتي

1 tablespoon

butter (optional) - زبدة

salt and pepper - ملح و فلفل

1/4 cup

cashew nuts (or any other favorite nut) - الكاجو

1/2 cup

peas (frozen) - بسلة

For the Chicken:

4

chicken thighs - أوراك الدجاج

salt and pepper - ملح و فلفل

1

lemon zest - قشر الليمون

vegetable oil - زيت نباتي

For the Rice:

1 cup

rice - أرز

1 1/2 cup

chicken broth/stock - مرقة دجاج

salt and pepper - ملح و فلفل

1 tablespoon

vegetable oil - زيت نباتي
Step by step
For the Freekeh: In a bowl, place the freekeh and enough water to cover it and let is soak for around 30 minutes. Remove the water and rinse the freekeh well.
In a small pot, place the oil and fry the nuts until they get a golden color. Remove the nuts and then add the freekeh.
Stir the freekeh for 2 minutes and then add the boiling chicken stock. When all the ingredients pick up a boil, close the lid and turn down the heat. This should take around 45 minutes to cook through. Season as you prefer.
Just before the freekeh is completely cooked, add frozen peas, as you just need them to cook while retaining their nice green color.
For the chicken: Marinate the chicken thighs with salt, pepper lemon zest and vegetable oil.
Place in a pan and cover with an aluminum foil. Put in a preheated oven for around an hour, or until the thighs attain a nice golden color.
For the rice: Put the rice in a bowl and soak it in water for around 20-30 minutes. Then, remove the water and rinse the rice very well.
In a pot, heat the oil and add the rice. Stir well for around a minute and then add hot chicken stock. Leave until it picks up a boil and then reduce the temperature and close the lid. The rice should be cooked through in around 20 minutes.
To serve, use a bowl as a mold and stack layers of freekeh then rice until the bowl is full. Make sure to press down after every layer to make sure it won't drop once turned. Turn the bowl into a large flat serving plate and place the chicken thighs around it.