Entertaining Labna with Debs
By yasmine • December 12, 2015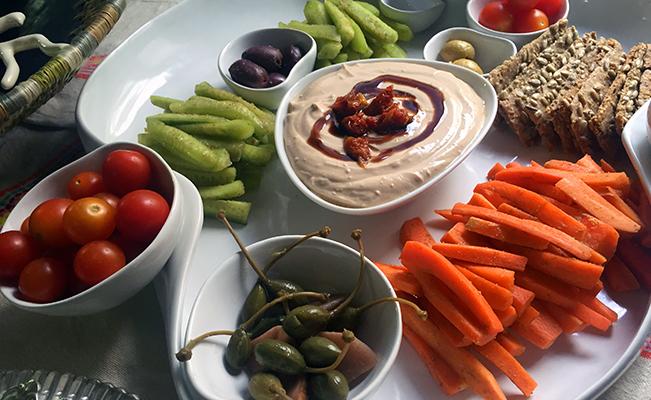 This 2-ingredient appetizer is by far the easiest finger food you can entertain surprise company with… everyone loves it and thinks it is so elaborate while its super easy!
You can spread it in a sandwich too if you want to add it to your lunchbox!
Ingredients
200 gram

labna (1 pack) - لبنة

2-3 tablespoon

pomegranate molasses (to taste) - دبس رمان

sun-dried tomatoes (OR olives for garnish) - طماطم مجففة

1 teaspoon

dukka (for garnish) - دقة
Step by step
Place the labna in a medium bowl and add the pomegranate molasses. Make sure it is entirely mixed in and the dip is creamy.
Chop a couple of sun-dried tomatoes, olives or fresh tomatoes and add them on top along with some dukka if available.
Serve with carrot, cucumber and celery fingers, or some crackers.