Cranberry & Almond Bread
By yasmine • March 5, 2015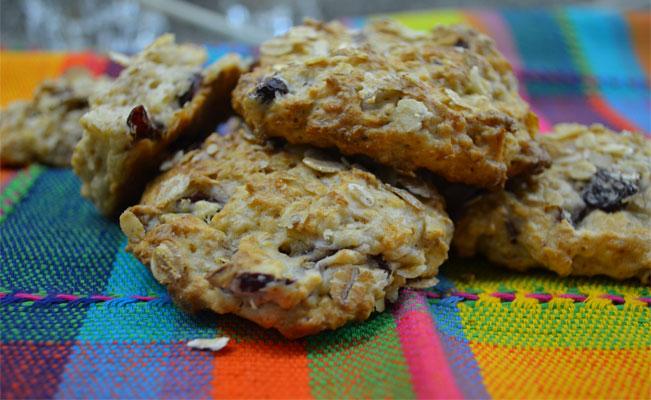 This is so comforting, so good and addictive! Not just addictive to eat but also to make. It is the easiest bread recipe you'll find and it'll wow people around you to the extent that you will never want to share the recipe!
You can also make it your own by replacing the cranberries and almonds with any chopped dried fruit or nuts – or do without! It will still be amazing.
You can serve it with jam, nut butters or cream like a scone.
This recipe yields 5- 6 pieces.
Ingredients
1/2 cup

flour (all purpose) - دقيق

1/2 cup

wholemeal flour - دقيق أسمر

1 cup

sour cream (at room temprature) - قشدة حامضة

1 1/2 teaspoon

baking powder - باكينج باودر

pinch

salt - ملح

1 teaspoon

vanilla extract (optional) - خلاصة الفانيليا

2 tablespoon

dried cranberries (or raisins) - التوت البري المجفف

2 tablespoon

almonds (shaved or chopped) - لوز

6 teaspoon

quick oats (optional) - شوفان سريع التحضير
Step by step
Preheat oven to 180C. Line your baking flat tray with parchment paper.
Sift the flour with baking powder and salt. Then add the sour cream and mix it lightly. Don't over-stir in order to keep a fluffy texture.
Soak the cranberry in hot water for 10 minutes, squeeze the water out of them with your hands, then stir them into the batter along with the almonds. Make sure the fruit and nut are fully incorporated into the mix.
Put dollops of batter (about a heaped tablespoon) on the tray leaving some space in between. Garnish with a teaspoon of quick oats on top before putting placing it in the oven.
Let it bake for 15 to 20 minutes. Then let it cool for 10 minutes before moving it into your favourite breadbasket.