Pulled Beef & Onions
By Nada Khaled • November 4, 2015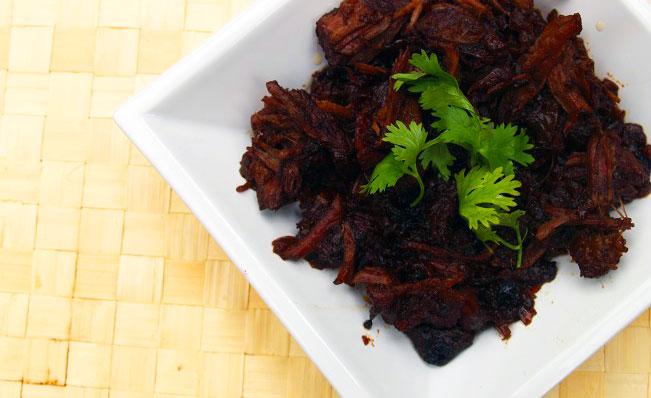 Tested by Cairo Cooking
This recipe has been tested in the CairoCooking Test Kitchen and it turned out absolutely delicious. We followed the exact recipe, however we did not need to add any salt at all because the soy sauce was already salty enough.
A unique take on the Egyptian meat and onions casserole.
Recipe uploaded by Nada Khaled.
Ingredients
1 tablespoon

butter - زبدة

1 tablespoon

oil - زيت

3 medium

onions (thinly sliced) - بصل

1/2 kg

beef cubes - لحم كباب حلة

3/4 cup

soy sauce - صوص الصويا

1/4 cup

balsamic vinegar - الخل البلسمي

1/2 cup

worcestershire sauce - صوص ورشيسترشير

2 teaspoon

salt - ملح

1 teaspoon

black pepper - فلفل أسود

2 teaspoon

cinnamon powder - قرفة

1 teaspoon

paprika - بابريكا / فلفل أحمر

1 pinch

nutmeg - جوزة الطيب

2 or more cup

water - ماء
Step by step
In a pot, melt 1/2 tbsp. butter with 1/2 tbsp. oil. Fry the beef cubes until browned.
Remove the beef and set aside. Using the same pot, add the remaining butter and oil.
Caramelise the onions, then add the finely chopped green chilli. Return the beef cubes back into the pot.
Add garlic and all the spices to the beef and onions, and stir well.
Stir in 1 cup water, the sauces and balsamic vinegar.
Cover and leave it to simmer until all the water is absorbed, then add another cup of water.
Keep repeating the process until the beef is perfectly cooked and can be easily pulled.