Traditional Beef & Vegetables Soup
By shahdan • February 15, 2022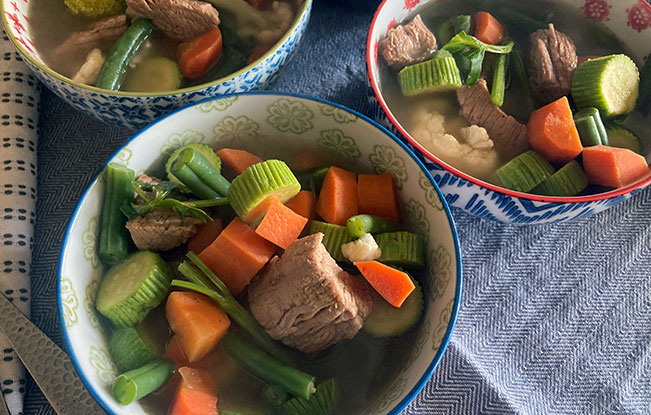 This traditional Beef & Vegetables Soup is not only colourful and delicious, butt it's also nutrient-dense and a great choice for strong immunity. It's all you need on cold winter days and when you're feeling under the weather. It also makes a great Ramadan soup, and can be extra filling with added freekeh just like the Freekeh Vegetable Soup.
Ingredients
1 large

carrot - جزرة

1 large

onion - بصلة

2 slice

green onions - بصل أخضر

1 tablespoon

olive oil - زيت زيتون

2 medium

bay leaves - ورق لاورا

3 small

mastic / mesteka - مستكة

3 medium

cardamom - حبهان

500 gram

beef cubes - لحم كباب حلة

1 kg

mixed vegetables - خضراوات مشكلة

black pepper (to taste) - فلفل أسود

sea salt (to taste) - ملح البحر
Step by step
Heat olive oil in a large soup pot.
Add roughly chopped carrots, onion, spring onions, bay leaves, mastic and cardamom. Mix on high heat for a few seconds.
Dry the beef cubes using kitchen paper. Add beef cubes and season with black pepper. Mix beef cubes with the vegetables on high heat, making sure the cubes are seared from all sides and become golden in colour.
Cover generously with boiling water from the kettle. Lower heat, half-cover, and leave to simmer for 90- 120 minutes or until beef cubes are soft to slice with a spoon.
Pass the stock through a sieve into a clean pot. Spoon the beef cubes from the sieve into the stock. Use a back of a spoon to press on the leftover veggies in the sieve to get all their goodness into the soup.
Add washed veggies of choice (peas, carrots, green onions, broccoli, celery, zucchini, green beans, potatoes, sweet potatoes) into the soup. Season with salt. Leave to simmer until vegetables are cooked to your liking (about 15 minutes). Serve warm with lemon wedges.