Turmeric Coconut Lentil Soup
By shahdan • February 1, 2018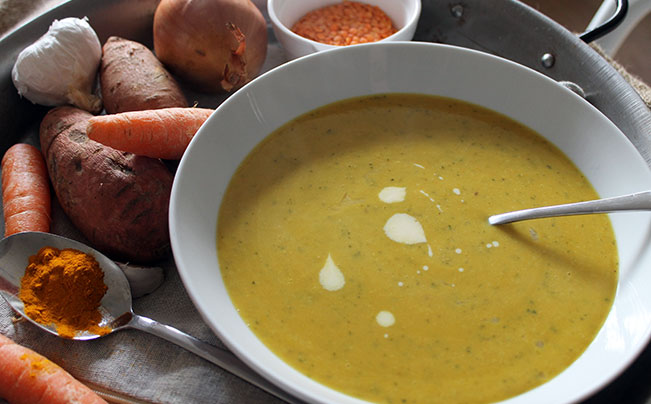 The flavors in this good-for-you Coconut Lentil Soup are simply phenomenal. With turmeric, ginger, sweet potatoes, coconut milk, this is not your traditional lentil soup. It is creamy, sweet, fragrant, and above all super-nutritious. A must-try for the cold winter season.
Ingredients
1 tablespoon

olive oil - زيت زيتون

1 small

onion (chopped) - بصلة

2 small

garlic clove - فص ثوم

2 teaspoon

fresh ginger (grated) - جنزبيل

1/2 teaspoon

turmeric - كركم

2 medium

sweet potato (peeled & cubed) - بطاطا

4 medium

zucchini (sliced) - كوسة

1 handful

coriander - كزبرة

2 medium

carrots (chopped) - جزر

1/2 cup

yellow lentils (washed) - عدس أصفر

3 cup

water (750 ml) - ماء

1 can

coconut milk (400 ml) - لبن جوز الهند

sea salt (to taste) - ملح البحر

black pepper (to taste) - فلفل أسود
Step by step
Heat olive oil and saute onions on low heat until soft (about 5 min). Add garlic, ginger and turmeric and sauté for another 2 minutes.
Add chopped veggies, lentils and water and raise heat to medium high. When it comes to a boil, lower heat and leave to simmer until lentils are soft and veggies are cooked through (about 25 minutes).
Add a can of coconut milk and fresh coriander. Blend the soup until smooth. Return to heat, taste and adjust salt and pepper. You may need to add a little extra boiling water (from the kettle) if the soup consistency is too thick. Serve warm.