Traditional Egga
By shahdan • March 10, 2016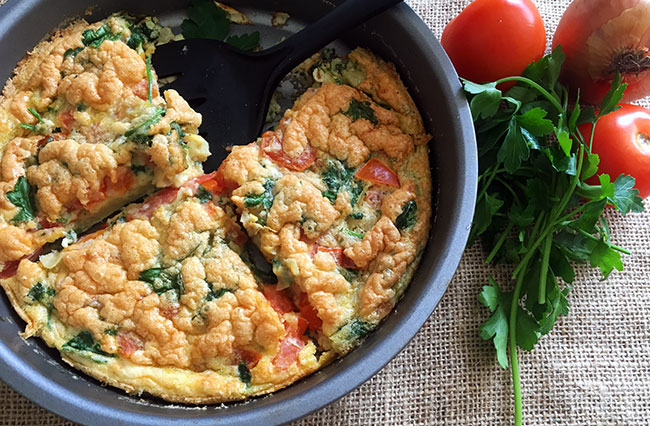 Egga is the classic Egyptian Egg Cake. It is baked in the oven until puffed and cooked through. With very basic ingredients, it is no exaggeration to say that the flavours in this Egyptian classic are simply out of this world!
Egga makes a beautiful full-of-veggies dish for a brunch gathering, and an unexpectedly delicious and light dish for a cosy movie night with friends. Leftover slices are also perfect for next day's lunchbox (just make sure to cover and refrigerate.)
Ingredients
2 medium

onion - بصلة

4 medium

tomatoes - طماطم

1/2 bunch

parsley - بقدونس

1 tablespoon

butter - زبدة

1 tablespoon

vegetable oil - زيت نباتي

6 large

eggs - بيض

1 tablespoon

flour - دقيق

1/4 teaspoon

baking powder - باكينج باودر

salt and pepper (to taste) - ملح و فلفل
Step by step
To prepare the vegetables, finely chop the onions, and dice the tomatoes, discarding the seeds. Chop the parsley leaves.
Pre-heat oven to 180C.
Heat oil and butter in a pan. Add onions and cook on medium heat until soft (about 5 minutes). Add tomatoes and cook for another 3 minutes. Finally, add parsley, season with salt and pepper, then give it a quick stir and turn off heat. Set aside.
Whisk eggs until foamy using an electric hand mixer or food processor. Add flour and baking powder and whisk again making sure the mixture is lump-free.
If the vegetable pan is oven-friendly, pour the egg mixture over the veggies and bake for 15 to 20 minutes or until a toothpick inserted in the centre of the pan comes out clean. Alternatively, use a Pyrex or any oven-proof dish, but make sure to grease it with butter before you add the vegetables and egg mixture.
Garnish with fresh parsley leaves and serve immediately.