Sun-dried Tomato Hummus with Basil
By shahdan • February 7, 2017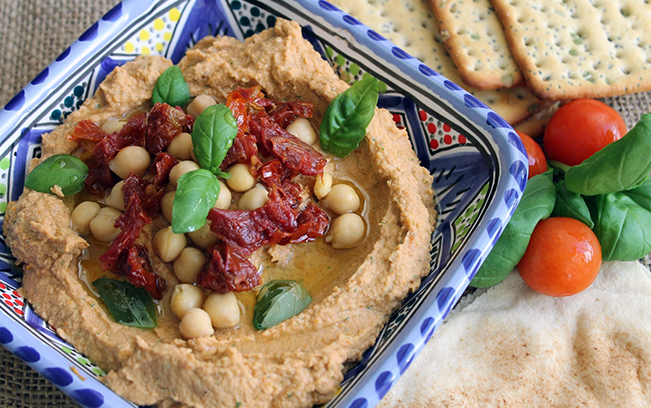 Everyone's favourite hummus dip, only a lot tastier with yummy sundried tomatoes and fragrant fresh basil leaves. It is full of flavour and aroma and ready in only 10 minutes.
Ingredients
1 can

chickpeas (whole - 400 gram) - حمص

1 tablespoon

tahini - طحينة

6 tablespoon

water - ماء

2 small

lime (juiced) - ليمون بلدي

1 medium

garlic clove - فص ثوم

10 piece

sun-dried tomatoes (sliced - plus extra to garnish) - طماطم مجففة

15 leaves

basil (plus extra to garnish) - ريحان

sea salt (to taste) - ملح البحر

1 drizzle

extra virgin olive oil - زيت الزيتون بكر
Step by step
Drain whole chickpeas and rinse with fresh water. Reserve one tablespoon of chickpeas for garnish, and add the rest into a food processor.
Add tahini, water, minced garlic clove, lime juice, and sundried tomatoes and blend until creamy. (If the mixture is still rough, add one two more spoons of water.)
Add fresh basil leaves and blend again until well-combined. Taste your hummus and season with salt as needed.
Transfer into serving bowl. Garnish with chopped sun-dried tomatoes, small basil leaves, the remaining whole chickpeas and a drizzle of olive oil. Serve with a selection of bread, crackers, and/or vegetable sticks.