Mongolian Beef Strips
By yasmine • February 1, 2018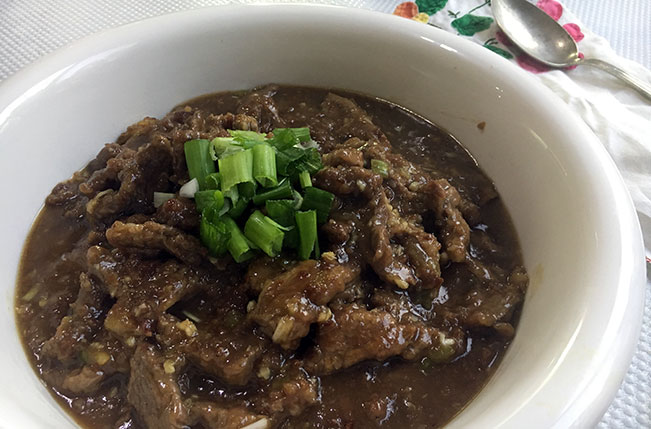 The Mongolian Beef Strips dish is a favorite at any Chinese restaurant. This is a simplified recipe to achieving it at home. It is a perfect home cooked meal to serve with white rice and a yummy Asian-style salad (check our selection).
In this recipe we do not deep fry the beef strips, but it is pan seared in a shallow oil pan. It is best not to overcrowd the pan to make sure each piece develops a nice crust.
The sauce thickens from the corn flour used for frying the beef strips but you can thicken it further by adding a teaspoon corn flour at the final steps.
Ingredients
500 gram

beef (cut into thin strips) - لحمة

1/4 cup

corn flour - نشا

6 tablespoon

olive oil (divided) - زيت زيتون

2 teaspoon

fresh ginger - جنزبيل

5

garlic cloves (minced) - فصوص ثوم

2 stalks

green onions (chopped white & green parts) - بصل أخضر

1/4 cup

hot water - ماء ساخن

1/4 cup

fish sauce (OR light soy sauce) - صوص السمك التايلاندي

3 tablespoon

brown sugar - سكر بني
Step by step
Place defrosted beef strips and corn flour in a medium zip lock or plastic bag and seal it. Use your hands to move the bag around to make sure all the strips are covered with corn flour.
In the meantime, heat 4 tablespoons olive oil in a large sauce pan.
As the strips are coated, place each piece in the hot oil. Fry each piece for 2 minutes on each side then place it in a plate with absorbent tissue. You can fry on two batches to avoid overcrowding the pan.
In a medium bowl, add hot water, fish sauce, brown sugar and 1 teaspoon corn flour if you prefer a thicker sauce. Stir well to dissolve the sugar and corn flour.
In the same sauce pan, add 2 tablespoons olive oil, grated ginger, minced garlic and the white parts of the green onion. Stir them for a couple of minutes until the garlic gains some color.
Then add the hot water mix to the sauce pan and stir scarping the beef remains stuck in the pan. Add the beef strips back to the sauce pan. As the water boils, lower the heat and let it simmer and cook for another 5 minutes or until it thickens.
Add the green parts of the chopped green onion and stir one more time then take it off the heat. Serve it in a deep serving dish next to white rice.