Apple & Dill Mixed Vegetable Salad
By shahdan • February 1, 2018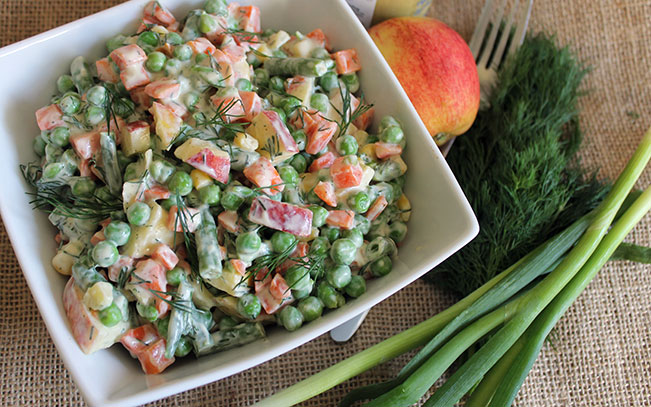 This Apple & Dill Mixed Vegetable Salad is delicious, fun and easy to prepare in advance. With colourful veggies, sweet crunchy apples and a hint of fresh dill & spring onions, this salad also makes an exciting cold side dish for grilled meat, chicken and fish.
Ingredients
4 cup

mixed vegetables (frozen peas, carrots, green beans) - خضراوات مشكلة

1 cup

sweet corn - ذرة حلوه

4 tablespoon

yoghurt - زبادي

2 teaspoon

Dijon mustard - مسطردة ديجون

1 tablespoon

mayonnaise (optional) - مايونيز

1 medium

apple (cubed) - تفاحة

1 medium

spring onion (finely chopped) - بصلة خضراء

1 tablespoon

dill (finely chopped) - شبت

salt and pepper (to taste) - ملح و فلفل
Step by step
Boil vegetables for a few minutes until soft yet still fresh green in colour and crunchy. Rinse with ice cold water and set aside.
In a salad bowl, mix yoghurt with mustard and mayonnaise. Add salt and pepper and mix.
Add apple cubes, corn, spring onion, dill, followed by the mixed vegetables and mix. Cover and refrigerate until serving time.