Roast Beef with Almond, Hazel & Pine Nuts Sauce
By Rasha Elbaramawy • March 8, 2018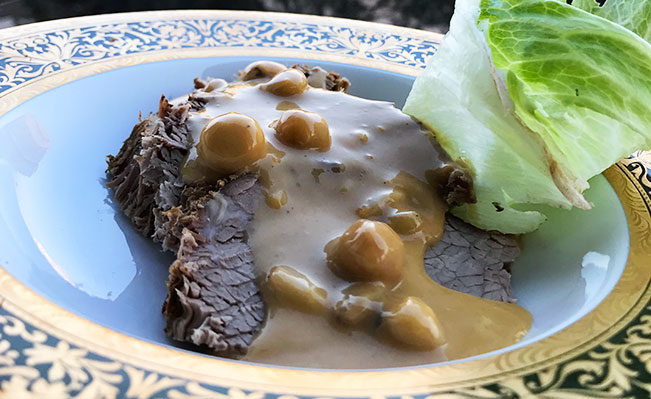 Recipe submitted by Rasha ElBaramawy.
The roast beef dressed in this low fat nutty sauce is delicious served with steamed rice and broccoli.
Ingredients
2 tablespoon

olive oil - زيت زيتون

4

garlic cloves (minced) - فصوص ثوم

1 medium

roast beef (one piece about 1.2kg) - روست بيف

1 cup

skimmed milk - لبن منزوع الدسم

1 tablespoon

corn starch - نشا

1 pinch

all spice - بهارات

salt and pepper - ملح و فلفل

1 cup

raw nuts (hazelnuts, almonds and pine nuts) - مكسرات
Step by step
Heat olive oil in a large pot. Add minced garlic followed by the beef fillet pieces. Fry on every side for one minute or until browned.
Add boiling water to cover the beef. Season with allspice and salt & pepper and put it in low heat until cooked through (about 45 minutes).
Remove the roast beef from water and set aside.
Add skimmed milk and corn starch to the remaining water (should be around 1 cup). Season with salt & pepper and let it simmer for 5 minutes or until the sauce is thickened.
Stir in whole nuts and let it cook for another 5 minutes.
Let the roast beef cool then cut it to thin slices and serve. Place warm sauce in a bowl and serve next to roast beef.