Mixed Bean Salad
By shahdan • July 18, 2016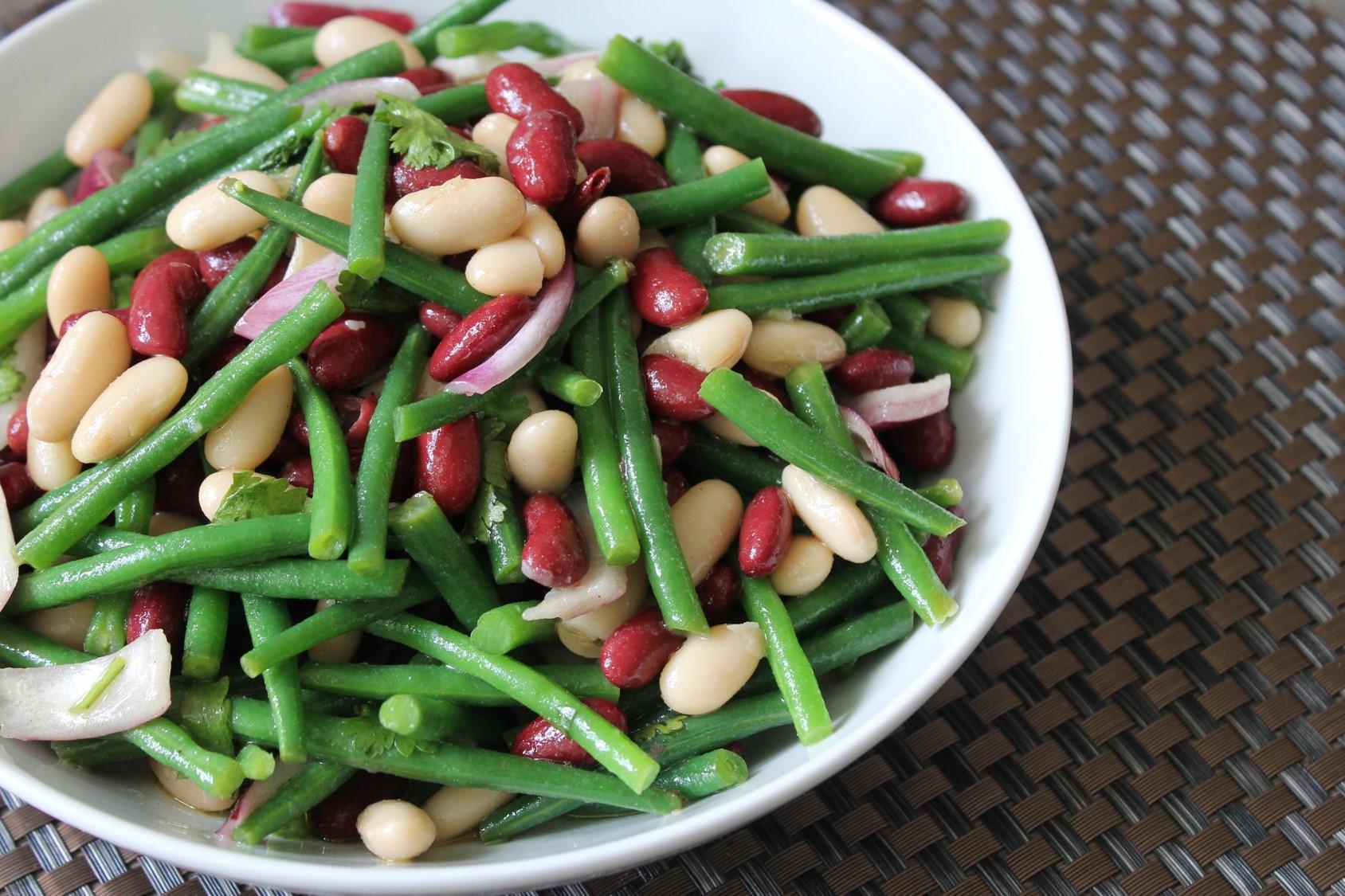 The Mixed Bean Salad is perfect for everyday and large gatherings espeically summer barbecues. It is a great option when the weather is too hot for lettuce.
It is healthier to cook the beans at home (after soaking them overnight), however,  canned beans make a good alternative on busy days.
For best results, refrigerate the salad for a few hours or overnight after adding the dressing allowing the flavors to combine.
Ingredients
300 gram

green beans (fresh) - فاصوليا خضراء

1 can

white beans (400 gram cannellini beans) - فاصوليا بيضاء

1 can

red kidney beans (400 gram) - فاصوليا حمراء

1 medium

red onion - بصلة حمراء

3 tablespoon

coriander (chopped) - كزبرة

DRESSING:

6 tablespoon

extra virgin olive oil - زيت الزيتون بكر

3 tablespoon

vinegar - خل

1 medium

lime - ليمون بلدي

1 teaspoon

Dijon mustard - مسطردة ديجون

1.5 teaspoon

honey - عسل

1/4 teaspoon

salt - ملح

1 pinch

black pepper - فلفل أسود
Step by step
Mix dressing ingredients and set aside.
Wash green beans, cut off their edges, then cut them in half.
Boil water in a large pot. Add green beans and let them simmer over low heat for 3-4 minutes. Rinse with fresh cold water to retain their fresh green colour. Put in the serving bowl and set aside.
Empty bean cans in a large sieve. Rinse them with fresh water then add to the green beans.
Slice onion to thin half circles and add them with the chopped coriander to the mixed beans serving bowl.
Add dressing, mix gently, and let it cool in the fridge until it's serving time. You can prepare this salad up to one day in advance. Taste and adjust salt & pepper before serving.