Rich Tomato & Basil Pasta Sauce
By shahdan • November 17, 2019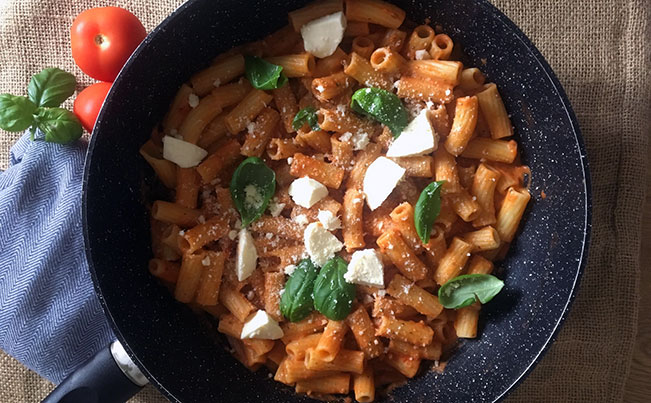 This rich & silky Tomato Pasta Sauce will be your new favorite pasta sauce. It is not just perfect for everyday but also great for large gatherings when you need a beautiful bowl of pasta. Cooked with ripe Egyptian tomatoes, and garnished with fresh green basil, flavorful Parmesan shaves & creamy Buffalo mozzarella, this pasta dish will become the centre of your every dinner table.
This recipe is enough for 500g pasta. You can easily double the quantities for bigger gatherings.
Ingredients
1 tablespoon

olive oil - زيت زيتون

1 small

onion (finely chopped) - بصلة

3 medium

garlic cloves (minced) - فصوص ثوم

500 gram

tomatoes (chopped) - طماطم

2 tablespoon

tomato paste - معجون طماطم / صلصة طماطم

3/4 cup

water - ماء

1/2 teaspoon

sugar - سكر

1/2 teaspoon

oregano - أوريجانو/ زعتر

1/4 cup

cooking cream - كريم الطهي

12 leaves

basil (chopped) - ريحان

salt and pepper - ملح و فلفل

500 gram

pasta - معكرونة

1 piece

buffalo mozzarella (about 100g) - جبنة موزاريلا جاموسي

small piece

parmesan cheese - جبنة بارميزان
Step by step
Heat oil in a large pan and sauté onions on low heat until soft. Add minced garlic and give it another stir.
Add chopped tomatoes, increase heat to high, and season generously with salt and pepper.
Next, add tomato paste, water, sugar and oregano. Cover and leave to simmer on medium/low heat for 15-20 minutes.
Using a handheld blender, blend into a creamy sauce. You can freeze the sauce in a suitable container at this point.
To finish off the sauce, add a splash of cooking cream, and half of the chopped basil leaves.
Cook pasta according to pack instructions until al dente. Drain pasta and add to the sauce immediately.
Mix gently and transfer to serving dish. Garnish with extra basil leaves, grated Parmesan and chunks of buffalo mozzarella. Serve immediately.