Baked Rice Meatballs (Koftet-Rozz)
By shahdan • March 1, 2016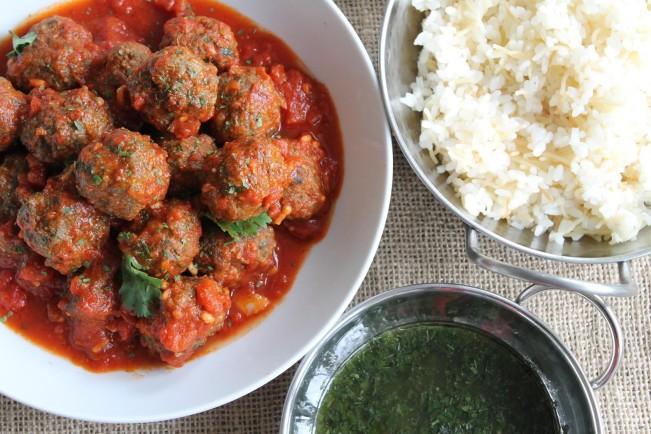 Rice meatballs is the kind of food that both, kids as well as grown ups love. That is why it is a perfect dish for playdates and kids' parties. Rice meatballs are absolutely delicious  with rice and molokheyya, or with plain pasta. Kids who don't like tomato sauce love to eat them, just baked, with a dip on the side.
Originally, this kind of meatballs should be fried, however we love to bake them instead!
The meatballs can be cooked in advance and chilled (in the sauce) in the fridge for a day or two.
Recipe yields 25- 30 meatballs.
Turn these meatballs into an exciting Fatta.
Ingredients
500 gram

minced meat (beef) - لحم مفروم

1 medium

onion - بصلة

3 tablespoon

rice - أرز

1 bunch

coriander - كزبرة

1 teaspoon

salt - ملح

1/4 teaspoon

black pepper - فلفل أسود

1/4 teaspoon

all spice - بهارات

1 tablespoon

olive oil - زيت زيتون

4 large

garlic clove - فص ثوم

750 gram

tomatoes - طماطم

1 tablespoon

tomato paste - معجون طماطم / صلصة طماطم
Step by step
Soak the rice in water for 15 minutes. Drain the water then leave the rice in a sieve to dry completely.
Preheat oven to 180C. Blend rice in a food processor until it breaks into little pieces. Remove from food processor, then blend onion with coriander (after chopping and discarding the long coriander stalks at the end).
In a bowl, mix the minced beef with the onion, coriander, rice, salt, pepper and all spice until well-combined (using your hands or a fork).
Use your hands to make small meatballs.
Line an oven tray with parchment paper and bake the meatballs for 20 minutes. Turn them over one time half way through.
For the tomato sauce, chop your tomatoes and puree in a blender. You can leave it a bit chunky for more texture in the sauce.
In a big pot, heat one tablespoon olive oil, and add minced garlic. Cook for one minute.
Stir in the tomato sauce, tomato puree, salt and pepper. You may add a little water if needed. Leave to boil, then lower the heat and leave to simmer until slightly thickened.
Remove meatballs from the oven and carefully drop them in the sauce.
Lower the heat and leave them to simmer for 5- 10 minutes. Make sure the meatballs are cooked-through. Adjust salt and pepper and garnish with fresh coriander.