Orzo & Vegetables Salad
By shahdan • September 17, 2018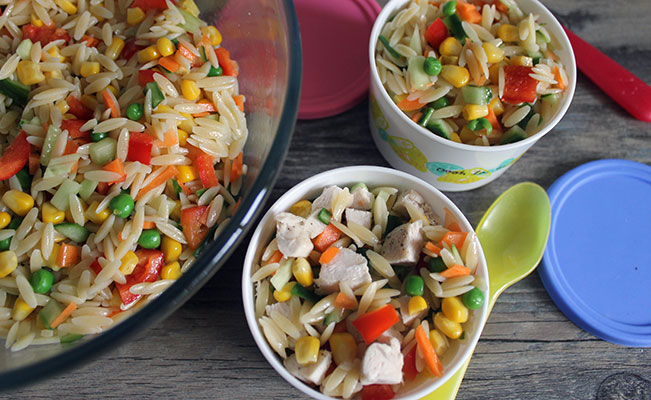 This Orzo Salad is super simple yet delicious and filling. It is perfect for the lunchbox (with or without cooked chicken pieces) as well as a perfect side dish. This basic vegetable combination is very tasty and will be appreciated by most children. Having said that, you can also always add with other ingredients to your family preference (like broccoli, tomatoes, olives, finely chopped baby spinach, cooked green beans…etc.)
The dressing is a simply composed of olive oil and sea salt. It might sound simple, but the flavours are big.
Ingredients
250 gram

orzo - لسان عصفور

2 tablespoon

extra virgin olive oil - زيت الزيتون بكر

1/2 cup

sweet corn - ذرة حلوه

1 cup

peas (half-cooked then washed in cold water) - بسلة

2 medium

cucumber - خيار

2 medium

carrots (diced) - جزر

1 medium

red bell pepper (diced) - فلفل رومي احمر

sea salt - ملح البحر
Step by step
Cover the orzo with hot water and boil until cooked or follow package instructions for best results.
Drain orzo, place in a bowl then add olive oil and stir. Set aside to cool.
Cut cucumbers, carrots and pepper into small cubes. For best results, slice into thin julienne sticks, then chop the sticks into small cubes.
Half-cook frozen peas in boiling water until slightly cooked yet still vibrant green (taste one to decide) then rinse with cold water.
Drain sweet corn from can and rinse with fresh water.
Add vegetables and corn to cooled orzo. Season with sea salt, cover and store in the fridge for up to 2 days. You may add precooked or leftover chicken pieces before serving.