Minted Zucchini Soup
By shahdan • April 14, 2015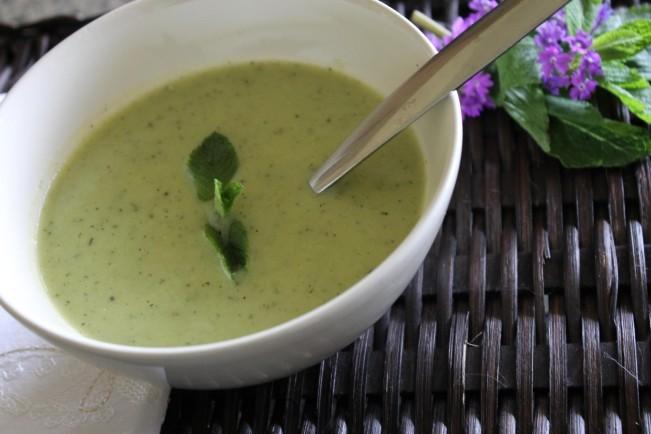 Even those who don't eat zucchini, will fall in love with this heart-warming soup…
Ingredients
1 kg

zucchini - كوسة

1 large

potatoes - بطاطس

4 cup

chicken broth/stock (or vegetable stock) - مرقة دجاج

10 leaves

mint - fresh - نعناع

1 teaspoon

dried mint - نعناع مجفف/ ناشف

1 cup

yoghurt (small commercial yoghurt size) - زبادي

1/2 teaspoon

corn flour - نشا
Step by step
Cut the zucchini and potato into slices. Make sure the potato slices are thinner than the zucchini so both can cook at the same time.
Cover with the stock, add the fresh mint leaves and bring to the boil until the veggies are soft.
Leave to cool for a few minutes then blend in a food processor, or easiest with a handheld blender, until smooth.
Rub the dried mint between your fingers into the soup to release its heavenly aroma.
Dilute the corn flour in 2 tbsp. water, then mix with the yogurt in a separate bowl. Use a ladle to spoon some soup into the yogurt bowl and mix. Repeat for a few times to make sure the yogurt is smoothly mixed with the soup then return the yogurt soup mix to the soup pot.
You can skip this step and add fresh cream instead. (Yogurt gives a healthier edge to the soup and a slightly sour taste, while cream gives it more richness at the cost of some extra calories.)
Simmer for a few minutes and serve.