Hummus Falafel
By shahdan • November 17, 2015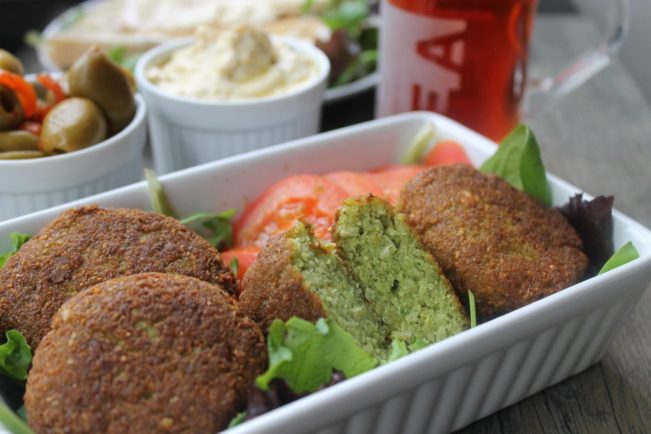 Hummus falafel is a great variation of the traditional broad bean (foul) falafel. This recipe will be of special interest to anyone living abroad, because chickpeas are much easier to find than the Egyptian 'foul madshoush'. You will be surprised by how easy it is to prepare the falafel at home. All you really need is a good food processor. Soak the chickpeas in water overnight, and you will not need more than 15 minutes in the next morning to prepare the greenest and most delicious falafel dough. You may then divide it into smaller portions, and freeze it in suitable containers.
Ingredients
500 gram

chickpeas (soaked for 12 hours or overnight) - حمص

2 cup

leek (chopped leeks) - كرات

4 large

garlic clove - فص ثوم

1 bunch

parsley - بقدونس

1/2 bunch

coriander - كزبرة

2 1/2 teaspoon

ground coriander - كسبرة ناشفة

2 teaspoon

salt (or to taste) - ملح

1/2 teaspoon

black pepper - فلفل أسود

1 cup

vegetable oil (to fry one batch) - زيت نباتي
Step by step
Drain the soaked chickpeas and rinse with fresh water then place them in a food processor.
Roughly chop the upper green parts of the parsley and coriander (it's ok to keep some stalks).
Blend all ingredients together (except the frying oil) until you reach a relatively smooth falafel dough. Pour the dough into a bowl and use a fork to give it another stir to ensure all ingredients are well-combined.
To fry, heat oil in a deep pan. Use your hands to form falafel patties and carefully drop one by one in the hot oil. You may also use an ice cream scoop. Fry until golden then transfer to paper towels to drain. Serve immediately.