Guiltless Moussaka
By shahdan • September 28, 2018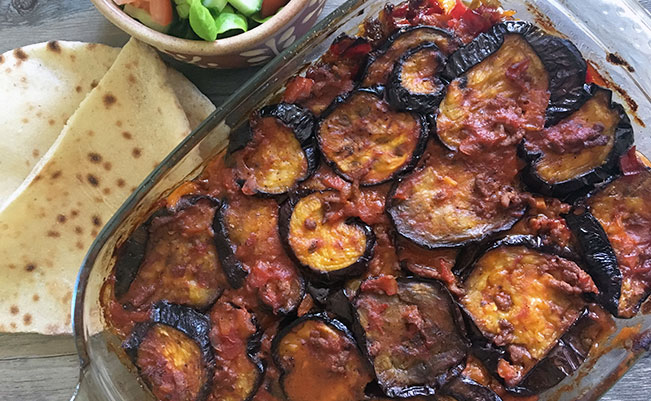 This Moussaka is irresistibly delicious, without the extra calories. The eggplants are oven-roasted not fried. This doesn't take away from the taste, on the contrary, the eggplants are more flavourful and rich here.
Because cooking moussaka is a lengthy process with many different components, I like to shortcut my way to this delicious dish using leftover (or precooked and frozen) minced beef bolognese sauce, that I usually have in small batches in my freezer to serve on spaghetti on busy days.
This recipe serves four if served with salad and bread only. But if is is part of a bigger menu, it would be enough for six.
If you prefer your moussaka with béchamel, you can add a cheesy béchamel sauce layer on top before pooping it into the oven. It looks more impressive in dinner parties, yet it's lighter and easier without it for you everyday.
Ingredients
1 kg

eggplant (sliced) - باذنجان رومي

1/2 cup

sunflower oil (OR olive oil) - زيت عباد الشمس

1 teaspoon

garlic powder - بودرة ثوم

2 cup

bell peppers (thinly sliced red, yellow & green) - فلفل ملون

1/3 cup

raisins - زبيب

1 cup

Bolognese sauce (pre-cooked with minced beef)

1/2 teaspoon

oregano - أوريجانو/ زعتر

1.5 tablespoon

vinegar - خل

salt and pepper (to taste) - ملح و فلفل
Step by step
Preheat oven to 200C. Line a large tray with parchment paper (optional) and generously brush the paper (or tray) with oil.
Slice eggplants into medium thick circles and arrange on baking tray. Brush the eggplants with more oil and sprinkle with salt, pepper and garlic powder.
Bake for 25 minutes (turning them over half way through) or until eggplants slices are golden and soft (depending on your oven).
While eggplant slices are roasting, shallow- fry the bell peppers in a little oil. When the bell peppers have wilted, add raisins and fry for another 2 minutes, stirring occasionally.
Drain bell pepper/raisins mix on kitchen tissue. Season with salt, pepper and garlic powder and set aside.
To assemble moussaka, spread 1 tablespoon bolognese sauce over a 20x25 cm Pyrex. Then arrange half of the eggplants slices next to each other to create the base layer. Drizzle vinegar on top.
Add the bell pepper/raisins mix, spread and press firmly.
Next, spread about 3 tablespoons bolognese sauce over the eggplants (just enough to create a very thin layer). Sprinkle with oregano.
Arrange remaining eggplants into a top layer. Add 2 tablespoons bolognese sauce more and spread, while pressing the moussaka firmly with a spoon.
Bake in 180C oven for 20-25 minutes until bubbly. Serve warm with Baladi bread and next to a green salad.