Figs & Goat Cheese Oregano Pie
By yasmine • July 22, 2015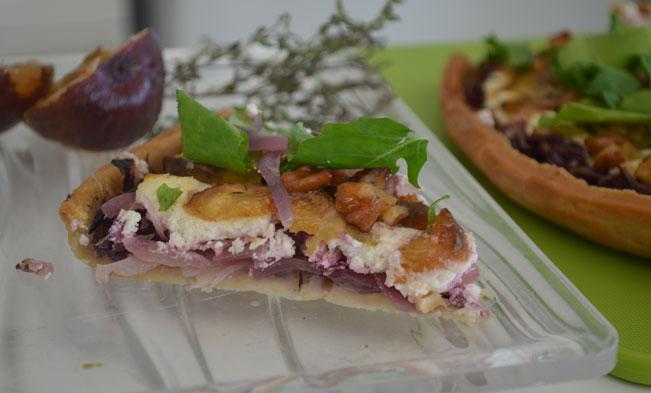 Fig season is here and can't stop thinking of all the fun recipes we can prepare using figs. It is a great fruit to use in sweet as well as savoury dishes. This savoury one never fails to impress.
If you make this pie once, you will be doing it again and again since it is great for entertaining. You can also spread some arugula leaves on top before serving for an extra colour and crunch.
Thank you Maha Yacine for providing us with a French translation for this recipe. You can find the translation in the comments underneath the recipe.
Ingredients
6

figs (sliced lengthwise) - تين

2 large

red onions (thinly sliced) - بصل أحمر

250 gram

goat cheese (thinly sliced) - جبن الماعز

1 tablespoon

oregano (dried & chopped) - أوريجانو/ زعتر

300 gram

short crust pastry (3/4 pack - at room tempreature) - عجينة شورت كرست

1 tablespoon

sugar - سكر

flour (for dusting) - دقيق

1 tablespoon

butter - زبدة

1 tablespoon

walnut (chopped - optional) - عين جمل / جوز
Step by step
in a large pan, melt the butter and add the sliced onions. As the onions cook, stir in sugar and salt and pepper. Once tender, turn off the stove and let it cool.
Preheat the oven to 180C.
Dust a clean surface with flour, as well as your roller. Spread the dough by pushing forward with the dough then turning the dough and rolling forward again - you will need to dust with flour every now and then. Sprinkle the dough with dried oregano as you turn and roll out in order to press the herb into the dough. You want to a achieve a thin round piece of dough around 35cm in diameter.
Line a greased 20-25 cm diameter oven pan with the dough making sure the dough also covers at least 3/4 of the pan sides.
Spread the cooled onions on the pie dough to create a first layer. Then add the sliced cheese to cover the onions followed by the sliced fig on top. Sprinkle some more oregano before putting it in the oven.
Keep in the middle of the oven for 20-25 minutes until the dough is fully cooked and a little crisp from the sides.
Once the pie is out of the oven sprinkle with chopped toasted walnuts. Make sure to serve it warm.