Coconut Ashoura
By shahdan • November 16, 2016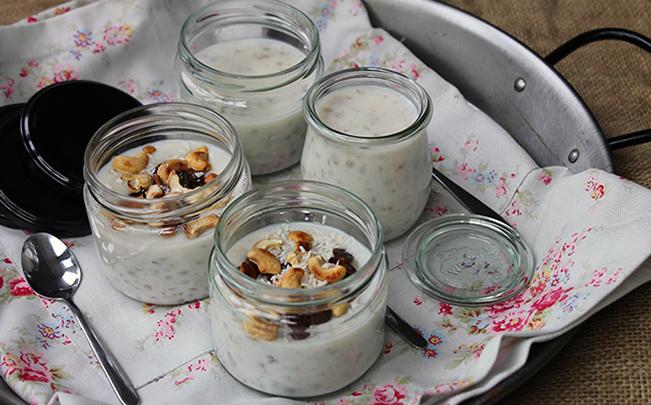 This Coconut Ashoura is pure happiness in a bowl. It is deliciously creamy, super nutritious, and makes a great make-ahead breakfast when stored in little jars in the fridge! To enhance flavour and consistency without the extra calories, I like to use coconut cream instead of the regular cream.
Ingredients
1 cup

barley wheat - قمح

3 cup

half cream milk (750 ml) - لبن نصف دسم

4 tablespoon

sugar (or to taste) - سكر

1.5 tablespoon

corn flour - نشا

2 tablespoon

coconut cream - كريمة جوز الهند

1/2 cup

raw nuts (coconut, raisins, almonds, cashews, pistachios) - مكسرات
Step by step
Measure one cup dried barley wheat. In a big bowl, cover barley with water and leave it to soak overnight.
Drain barley then rinse it well with fresh water. Place it in a medium pot, cover with water again and leave to cook on medium heat until the grains are soft (about 30 minutes).
Drain the water and add 3 cups of milk. When the milk is warm, add sugar to taste.
Using a small blender, blend about 2 ladles of barley and milk until creamy. This helps enhance the consistency and flavour of the Ashoura. Return the blended Ashoura to the pot (still on the stove).
In a separate bowl, mix corn flour with 3 tablespoons cold water (or milk) and stir until the mixture is lump-free.
Add corn flour mixture to the Ashoura, lower heat to a minimum, and use a wooden spoon to constantly stir the Ashoura until you achieve a thicker consistency. Bear in mind that Ashoura thickens more after cooling.
Take the Ashoura off the heat, stir in coconut cream and mix well, then pour into serving bowls or jars. Leave to cool before you put it in the fridge.
Garnish with nuts or fruits and serve cold.