Hearty Homemade Lentil Soup
By shahdan • October 22, 2016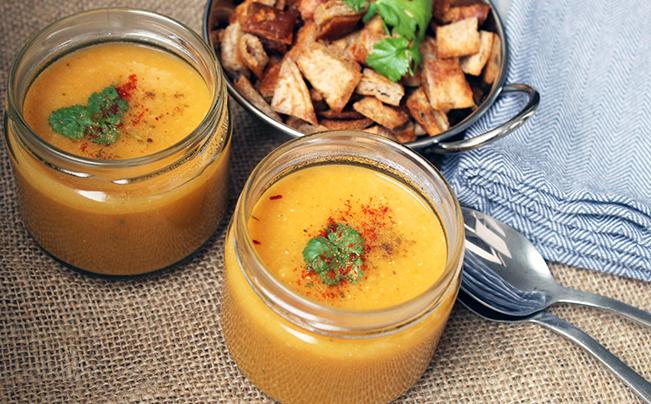 Comfort food at its best…this homemade lentil soup is easy, super nutritious and so heart-warmingly delicious. The flavours are deep and intense without the need to use any stock. With lots of  veggies and wholesome lentils, it ensures that you and your family are getting the right nutrients! It will surely become your new favourite winter-warmer!
Ingredients
250 gram

yellow lentils - عدس أصفر

1 medium

onion (cut into 4 quarters) - بصلة

2 medium

tomato (cut into quarters) - طماطم

1 medium

sweet potato (peeled and sliced into cubes- or regular potatoes) - بطاطا

3 medium

zucchini (peeled and roughly sliced) - كوسة

2 medium

carrots (peeled and sliced) - جزر

2 medium

spring onion - بصلة خضراء

2 medium

garlic cloves - فصوص ثوم

2 pod

cardamom - حبهان

1 medium

bay leaf - ورق لاورا

6 cup

boiling water - ماء ساخن

salt and pepper (to taste) - ملح و فلفل

1 pinch

ground cumin - كمون

1 tablespoon

coriander (finely chopped) - كزبرة

paprika (optional for garnish) - بابريكا / فلفل أحمر
Step by step
Rinse the lentils with fresh water and place them into a large soup pot.
Add onion, garlic and all the cut veggies (except coriander) to the lentils. Cover with boiling water (around 6 cups). Throw in 2 cardamom pods and a bay leaf and place the pot on high heat.
When the soup comes to a boil lower the heat to medium-low, cover, and leave to simmer for 30 minutes or until veggies and lentils are soft.
Remove cardamom pods (they will be floating on top of the soup) and bay leaf.
Use a handheld blender to puree the soup until smooth.
Season with salt and pepper to taste. Add a pinch of cumin, and chopped coriander.
Garnish with extra coriander leaves and paprika and serve warm.