Bolognese Sauce with Hidden Veggies
By shahdan • May 30, 2016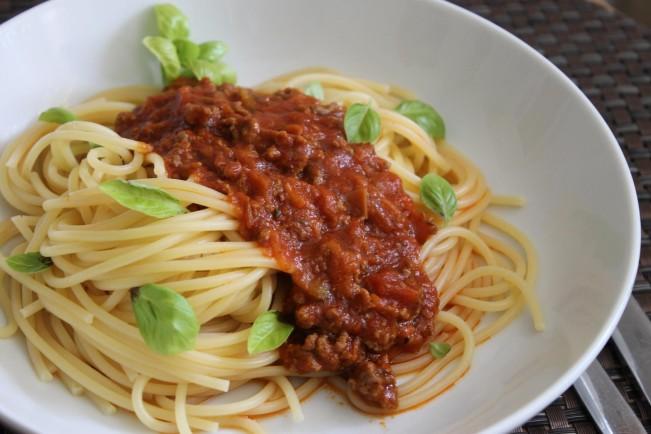 A relatively long list of ingredients, but it guarantees one wholesome meal for your family. It is full of minced beef, healthy vegetables and fresh tomatoes so it is perfect for children who do not eat lots of veggies. Serve it on spaghetti, or on little pasta shells for younger children who like to eat their pasta with a spoon.
Ingredients
2 tablespoon

olive oil (or vegetable oil) - زيت زيتون

1 large

onion (diced) - بصلة

1 large

carrot (grated) - جزرة

2-3 large

zucchini (grated) - كوسة

2 stick

celery (diced) - كرفس افرنجي

1 handful

spinach (optional) - سبانخ

3 large

garlic cloves (crushed) - فصوص ثوم

1 teaspoon

thyme (or 3 fresh sprigs) - زعتر

500 gram

minced meat - لحم مفروم

500 gram

tomatoes (diced) - طماطم

500 gram

tomatoes (pureed fresh tomatoes in the food processor with ¼ cup water ) - طماطم

1/2 teaspoon

sugar - سكر

2 teaspoon

tomato paste - معجون طماطم / صلصة طماطم

1

bay leaf - ورق لاورا

salt and pepper (to taste) - ملح و فلفل

1 handful

basil - ريحان
Step by step
Heat 2 tablespoons olive oil in a pot. Add diced onions and celery. Cook for around 5 minutes on medium/low heat, until onion is transparent and soft but not brown.
Add the grated carrots, zucchini, crushed garlic and stir for another 3 minutes.
Add minced beef, 1 teaspoon salt, ¼ teaspoon pepper, and use a wooden spoon to crumble and mix the beef with the veggies. The beef will release its water. Leave to cook until it has absorbed most of its juices (about 10-15 minutes).
You may add a handful finely chopped fresh spinach leaves if you choose to.
Add chopped tomatoes and tomato juice, sugar, bay leaf, thyme and tomato paste for a richer red colour. Sugar balances the taste of sour tomatoes.
Stir everything together, cover and leave to simmer on the lowest heat for 45-60 minutes.
Serve it with your favourite pasta and garnish with fresh basil.
(A useful shortcut, is to substitute the fresh chopped tomatoes and the tomato juice with two large jars of any ready-made pasta sauce (in step 5), and follow the rest of the directions, bearing in mind the sauce will not need to simmer for more than 30 minutes.