Simple Ramadani Khoshaf
By yasmine • June 7, 2015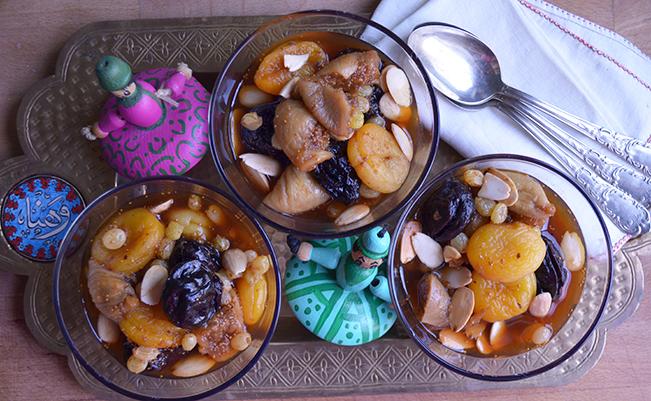 This Ramadani Khoshaf recipe is simply sugar-free. Knowing that most dried fruits in Egypt are already sweetened, I found no need to add any extra sugar (if you feel you do need sugar then add it while the dried fruits are boiling according to taste).
The recipe is super simple – you put the same amounts of dried figs, dried apricots and prunes with half the measure of raisins and a quarter from the nut. So whatever the amount of Khoshaf you want to prepare (since Khoshaf can last up to 10 days in the fridge), just stick to the comparative measures.
Ingredients
1 cup

dried figs

1 cup

dried prunes

1 cup

dried apricots

1/2 cup

raisins - زبيب

4 cup

water - ماء

1 tablespoon

Orange Blossom Water (optional) - ماء الزهر

1/4 cup

almonds (peeled & halved) - لوز

4 tablespoon

brown sugar (optional) - سكر بني
Step by step
Wash all ingredients thoroughly and cut figs into quarters. You may also cut prunes in half to deseed them.
Put all dried fruits in a medium pot and cover with water. Put it on medium heat until it comes to a boil (about 10 minutes). You can add the sugar during the part if you decide to add any.
Remove pot from heat, stir-in orange blossom water, if using any, and let it cool for a few minutes before you transfer the Khoshaf into a bowl or a box to place it in the fridge. Leave it in the fridge for a minimum of two hours or overnight.
Just before serving, add toasted nuts and stir them into the sauce. Serve it cold.