Baked Fish Fillet with Dukka & Hazelnuts
By yasmine • April 10, 2017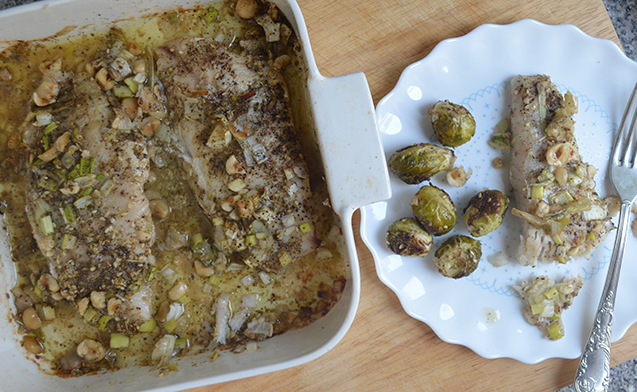 This is an easy, nutty and tasty fish recipe made with Egyptian-style Dukka  and crushed hazelnuts. The herbs in most Dukka recipes are just a perfect pair to white fish while the nuts along with the sesame in the Dukka creates a light crust to the fish without covering it completely, keeping it moist and tender. You can serve it next to fish rice and tahini or just next to a green salad. You can also serve it next to oven-roasted Brussels sprouts with added hazelnuts.
Ingredients
1 kg

sea bass fish (fillets) - سمك الباسه

2 tablespoon

dukka (homemade or store-bought) - دقة

1 tablespoon

ground cumin - كمون

2 tablespoon

olive oil - زيت زيتون

3 stalks

spring onion (finely chopped) - بصلة خضراء

1 handful

hazelnut (unpeeled and chopped) - بندق

1 tablespoon

butter - زبدة

1 tablespoon

sea salt (OR 2 teaspoons regular salt) - ملح البحر

2

lime - ليمون بلدي

1 teaspoon

black pepper - فلفل أسود
Step by step
Sprinkle defrosted fish fillets with Dukka, cumin, salt and pepper. Drizzle with olive oil and let it marinate in the fridge for at least half an hour.
In the meantime, finely chop the white and light green parts of the spring onions. Also, use a knife to roughly chop raw hazelnuts.
Arrange fish in baking tray or pyrex as a single layer. Sprinkle spring onions and hazelnuts on top. Place a thin slice of butter on each fillet.
Place fish in the middle of the oven for 20 minutes or until cooked-through and slightly golden.