Super-busy Working Mom Cooks the Traditional FattaBy CairoCooking • June 24, 2015
Yes! Busy working mums can still achieve an amazing looking deliciously tasting Fatta. This is a fast, non-protein-based recipe that will keep your guests in awe.
Dalia Allam is a marketing manager at an esteemed multinational, a mom to beautiful Nadia, 2 years, and a synchronized swimming coach after a lifetime of being an Olympics champion – add to that she is pregnant in her third trimester. But above all, like a lot of mums, she doesn't give up on cooking some good traditional foods for her family and friends – dishes that everyone ends up craving like this hit: the vegetarian Fatta.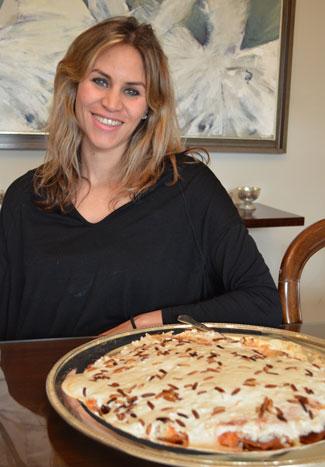 Dalia's mum has taught her an easy, fast, great for gatherings and delicious traditional Fatta and she is sharing it with us to inspire busy yet passionate home cooks with its simplicity.
She serves this dish to her family next to any protein and a salad – it is really filling. It is also one of the hits and conversational starter at any gathering especially in Ramadan. It is creamy, crunchy,  and certainly all garlicky from the tomato sauce. "Of course it has all this garlic, what did you think?" wondered Dalia when we enquired about the total 17 cloves.

"This is the type of recipe you don't really have ingredients measures for, you taste along the way and adjust… the tomato sauce, the yoghurt are the main two layers to perfect for this recipe," says our passionate home cook. "And when you have all the layers ready, you just need to prepare it before serving – it takes five minutes."
(See images below for layers in chronological order)



Below are the measures and ingredients as prepared at the 'In Your Kitchen' visit:
Ingredients:
Layer 1 – The Crispy Bread
2 pieces shamy bread (cut into squares)
half cup sunflower oil (for frying)
Layer 2 & 4 – The Tomato Sauce
1 kilo fresh tomatoes
12 garlic clove (minced)
1/2 cup vinegar
salt
Layer 3 – 2 cups cooked rice
Layer 5 – The Yoghurt
8 yoghurt
5 garlic clove (minced)
2 tablespoons tahini
The pine nuts
1 handful pine nuts garnish
1 tablespoon olive oil
This dish is one of those reasons we're friends with   Dalia Allam! Her mum's Fatta made us come back to her house many times. Be it at a Ramadan Iftar or on a regular weekday, it never seizes to impress. Get the whole recipe here.