Makloubet Setti – A Dish That Speaks CultureBy CairoCooking • December 9, 2015
Like all art, cooking can tell beautiful stories. It can take us to places we have never been, and expose us to new cultures and lifestyles – beyond just the simple mixing of ingredients and the creation of good flavours. Cooking can be a connection between one and his roots. Simply said, it is a representation of one's identity. And no matter how creative we can get with modern cooking and with different cuisines, we always long to our traditional food that connects us to our roots, our childhood flavours and our identity.
To our delight, wife, mother of three, life coach, and amazing home cook Nelly Abuarqub, offered to share her family's much treasured classic Maklouba recipe.
To Nelly, 'Makloubet Setti' is definitely no exception. It is a dish that she cooks with pride and joy, a classic family recipe taught to her by her dear grandmother (as the name suggests). This maklouba takes Nelly back to beautiful traditional family gatherings in the heart of Ramallah, Palestine. Although the dish features different components, each requiring work and patience, she prepares her dish with much passion and love. Her eyes glow with excitement sharing a dish she grew up loving.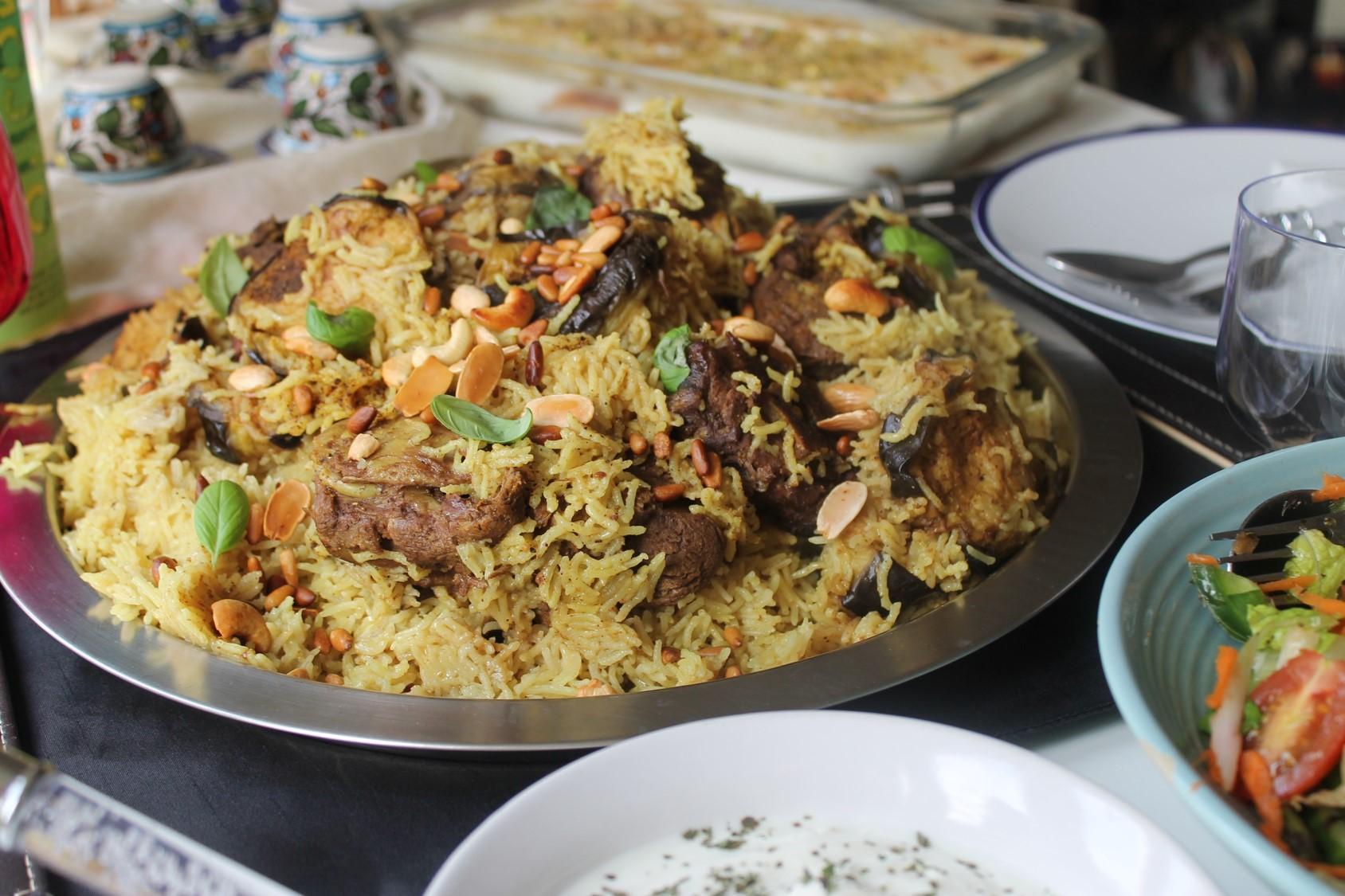 Maklouba is the Arabic word for "upside down," a traditional Palestinian upside down dish of lamb, eggplants and rice. A large pot is layered with lamb that is covered with eggplants then the rice comes on top. After all is cooked, this pot is held upside down against a serving dish, like you would turn a cake. The rice becomes at the bottom and spreads in the serving dish while the eggplants and lamb just fall over it. It is not an exaggeration that the aromas and the flavours in this dish are beyond incredible.
Before the cooking starts, Nelly picks out the needed spices from a pantry full of Levantine aromas. While some are common in Egyptian cooking, others are entirely new. 'Loomi,' for example, is dried lime that gives her Arabic dishes much flavour and fragrance.
There is also a ready spice mixed especially for Maklouba. It mainly consists of turmeric, ginger, cinnamon, pepper and bay leaves among other spices. Still, she recommends using any other Arabian meat spice mix, if the maklouba one is not available.
Nelly believes the traditional recipe she learned from her ancestors is by far the best. She had tried some changes and always went back to 'Makloubet Setti.' As Nelly relentlessly deep-fries the sliced eggplants, we wonder whether it is easier to just ovenroast them. Nelly smiles and says "well, of course you can and it will be healthier, but it will not be Makloubet Setti." Having said that, she confesses that she did try the roasted eggplants before but it is not the same since "the maklouba needs the moisture of the fried eggplants, and by roasting them, you drift away from the classic."
Nelly, serves the maklouba in a beautiful Palestinian serving dish, with minted yoghurt and a luscious traditional salad on the side. A simple yet cultured presentation to a dish that carries lots of rich Arabic flavours.
Nelly also recommends replacing the lamb with chicken quarters and the aubergine with cauliflower, while following the exact recipe. That's yet another Palestinian classic.
To read the full recipe click here.