Salmon in Broad Beans Herb Sauce
By yasmine • May 24, 2022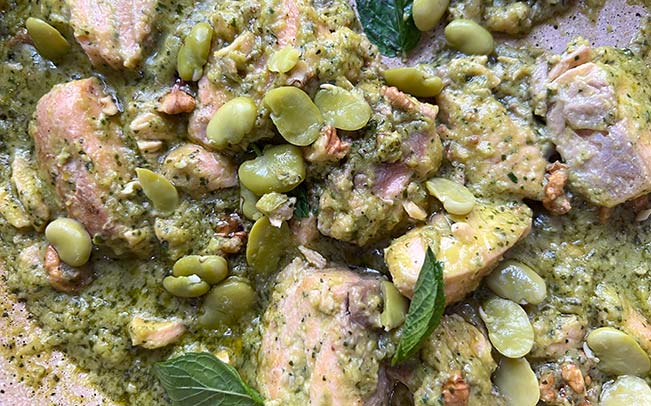 A guiltelss comfort food, full of protein and nutrients, yet creamy and delicious, this Salmon in Broad Bean Herb Sauce will please the whole family and friends.
No one will guess what is in it, since the marriage of the broad beans and the herbs bring on a new fresh and comforting flavor to each salmon bite.
Ingredients
400 gram

broad beans (frozen) - فول أخضر حراتي

salt and pepper - ملح و فلفل

1/4 cup

olive oil - زيت زيتون

1/4 cup

coriander (roughly chopped) - كزبرة

20 leaves

mint (plus extra for garnish) - نعناع

2

lime (juiced & zested) - ليمون بلدي

4

garlic clove - فص ثوم

50 gram

walnut (chopped) - عين جمل / جوز
Step by step
Place frozen broad beans in a casserole and cover with water. Boil for about 10 minutes until it is easy to peel (unless already peeled). Do not disregard the boiling water.
In the meantime, marinate the salmon cubes with salt and pepper and a drizzle of olive oil. Set aside.
Peel the cooled broad beans quickly and place them in a blender. Add lime juice and zest, mint and coriander leaves, garlic cloves and the rest of the olive oil. Pulse until creamy.
Heat a pan and add the salmon cubes. Sear them on medium heat for a couple of minutes from all sides.
Tip the broad beans herb mix onto the pan and stir. Add a little from the boiling water or cream if you prefer and lower heat.
Let the salmon cook for another 10 minutes until the sauce thickens and the salmon is cooked through. Adjust seasoning.
Sprinkle with chopped walnuts and garnish with fresh mint leaves. Serve next to Basmati rice.