Roasted Turmeric Chicken
By shahdan • November 16, 2015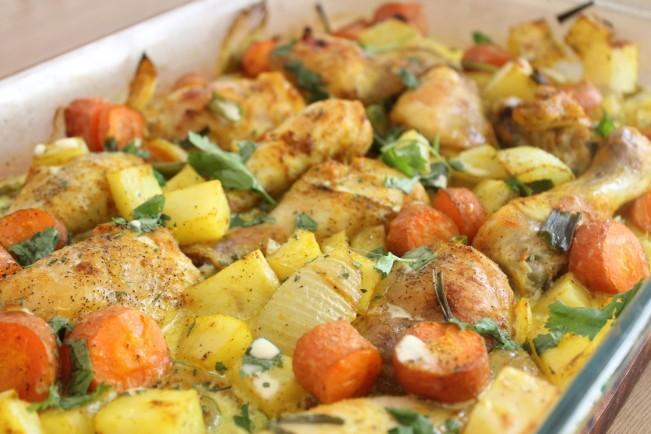 The Roasted Turmeric Chicken has bold flavours, vibrant colours, moist chicken, sweet veggies, and creamy potatoes… This is home-cooked comfort food at its best!
Ingredients
1 kg

chicken thighs - أوراك الدجاج

2 large

onion - بصلة

2 large

potatoes - بطاطس

3 large

carrots - جزر

3 medium

spring onion - بصلة خضراء

1 1/2 teaspoon

salt - ملح

1/2 teaspoon

black pepper - فلفل أسود

1 teaspoon

turmeric (a full tsp. of good quality turmeric) - كركم

3

cardamom - حبهان

2 medium

bay leaf - ورق لاورا

1/2 teaspoon

garlic powder - بودرة ثوم

2 large

garlic clove (crushed) - فص ثوم

2 drizzle

olive oil - زيت زيتون

1/4 cup

cooking cream - كريم الطهي

2 tablespoon

coriander (chopped, to garnish) - كزبرة
Step by step
Pre-heat the oven to 180C.
Peel and cut the potatoes into cubes. Chop the carrots and the spring onions.
In a plastic bag, mix the chopped veggies with a little salt, pepper, 2 crushed cloves of garlic and a drizzle olive oil. Close the bag and rub the veggies together to coat and season well.
In a large oven-proof dish, season the chicken with the remaining salt and pepper. Add the turmeric, cardamoms, bay leaves, garlic powder, 2 chopped onions, a drizzle olive oil and rub them together so the chicken is nicely coated.
Add the veggies around the chicken and cover the dish with foil. Bake for 45 minutes, then uncover and bake for another 15 minutes until golden and cooked through.
Add a splash of cream and fresh coriander to garnish. Serve immediately. Best served with white Egyptian rice.