Quinoa Taboula
By shahdan • July 1, 2015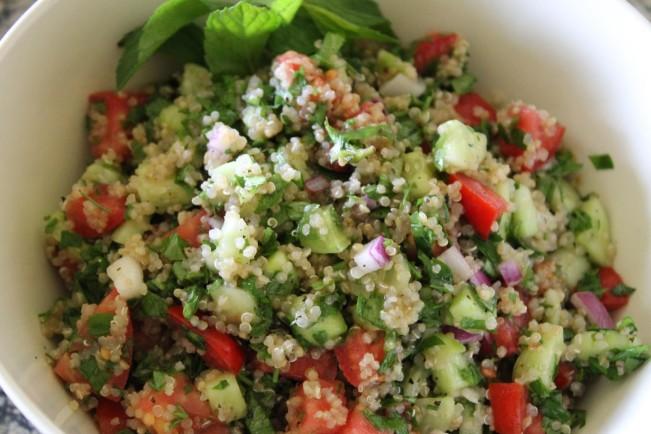 Easy, quick, and super nutritious! Re-invent the classic taboula with today's super seed: quinoa!
Ingredients
1/2 cup

quinoa - كينوا

1 cup

water - ماء

1 bunch

parsley - بقدونس

3

cucumber - خيار

2

tomato - طماطم

1 small

red onion (or 2 spring onions) - بصلة حمراء

1 handful

mint - نعناع

DRESSING:

4 tablespoon

extra virgin olive oil - زيت الزيتون بكر

3

lime - ليمون بلدي

1 teaspoon

dried mint - نعناع مجفف/ ناشف

1

garlic clove (crushed) - فص ثوم

salt and pepper - ملح و فلفل
Step by step
Wash the quinoa, then bring to the boil uncovered with one cup of water. When it boils, lower the heat to a minimum, cover and leave to simmer for 10-15 minutes. It is done when the water is absorbed and the quinoa is tender. Leave to cool then fluff it with a fork.
To prepare the salad, finely chop your greens, then slice the onions, tomatoes and cucumber into tiny cubes. Set aside.
In a salad bowl, mix the dressing ingredients: olive oil, lime juice, salt, pepper, dried mint, and crushed garlic clove.
Stir in the finely chopped vegetables and give it a quick stir, then add the cooled quinoa. Use a fork to fluff the quinoa with the salad. Garnish with fresh mint and serve.