Nutritious Cheesy Rosemary Crackers
By yasmine • August 23, 2015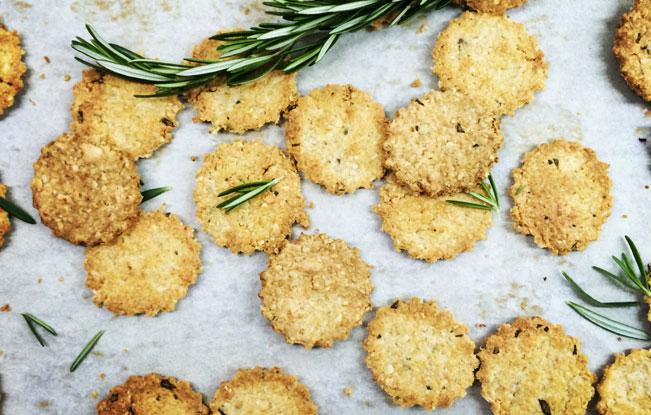 Your house will smell like a bakery in the morning with these small crunchy savoury treats. Imagine you bake your own crackers making sure it has all these nutritional carbs and making it entirely your own recipe once you master preparing it. You can keep them up to a week in a sealed container and have your kids munching through them wether as a snack at school or between sports practices. They are also a great addition to your gatherings as a home-made cracker next to your dips.
You can substitute the mozzarella with shredded cheddar, parmesan mixed in, or smoked cheese while also substituting the rosemary with oregano or basil. That way you can play around with it to find your perfect kiddie or grown up version.
Ingredients
1 cup

whole wheat flour - دقيق القمح الكامل

1/2 cup

oats (blended until it's a fine powder OR oatmeal) - شوفان

2 tablespoon

wheat germ (optional) - جنين القمح

1 cup

mozzarella cheese (shredded) - جبن موتزاريلا

1-2 tablespoon

rosemary (finely chopped - to taste) - روزماري/ إكليل الجبل

1 pinch

salt - ملح

1/4 cup

olive oil - زيت زيتون

1/4 cup

water (or a bit more) - ماء
Step by step
Mix dry ingredients (flour, oats, salt, rosemary, wheat germ) and place them in a blender.
In another bowl, mix oil and water with the cheese.
Add wet mix to the blender bit by bit while you pulse the blender. Once you have mixed all together it should start forming a ball as you pulse. You may need to add more water if its too dry.
Dust a clean surface with some flour, and roll out the dough to a 1/2cm thickness. Use stencils to cut out round forms or a knife to cut horizontally and vertically creating squares.
Place your individual raw crackers on the baking sheet with little space between them (they do not grow in size). Place it in the oven for about 12 minutes or until they turn golden.
Remove crackers carefully from baking tray and let them cool for 10 minutes before serving.