Filling Red Cabbage Soup
By yasmine • March 2, 2022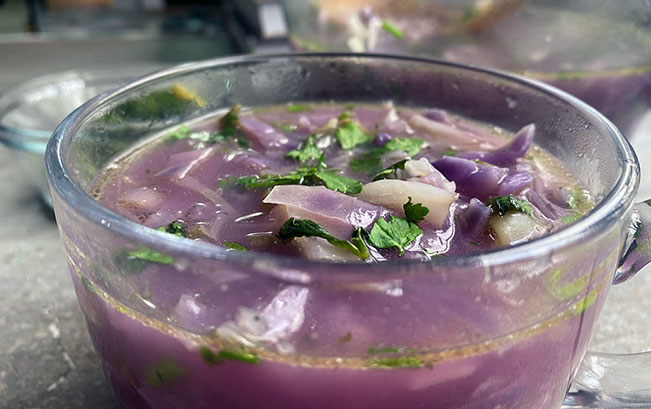 A filling red cabbage soup can be a meal on its own. This pink violet soup is delicious, filling and highly nutritious.
Preparing a liter at a time from this soup and keeping it vaccum-sealed for up to one week in the fridge will allow you to enjoy a bowl a day with all its benefits. It also helps burn excess body fat faster and lower cholesterol, aside from helping you stop binging. Since cabbage is highly filling without the extra carbs or calories, it is recommended in a lot of weight-loss programs.
Ingredients
1 tablespoon

olive oil - زيت زيتون

1

onion (diced) - بصلة

3

garlic (minced) - ثوم

3 stalks

spring onion (finely chopped) - بصلة خضراء

2 stalks

leek (finely chopped) - كرات

salt and pepper - ملح و فلفل

2 cup

white cabbage (sliced) - كرنب أبيض

2 cup

red cabbage (sliced) - كرنب أحمر

1 liter

broth - مرقة

2 tablespoon

parsley (finely chopped) - بقدونس

1

lime (juiced) - ليمون بلدي
Step by step
Heat olive oil in a soup bowl. Add diced onions and minced garlic and stir. Follow with chopped leeks if using any.
As the onions turn golden (about 7 minutes), add sliced white and red cabbage. Season with salt and pepper.
Stir the cabbage for a couple of minutes until it wilts.
Stir in broth and bring it to a boil. Lower heat, cover and let it simmer on low heat for 20-25 minutes until cabbage is cooked and soft.
Adjust seasoning, sprinkle with chopped parsley and squeeze lime juice. Serve hot.