Classic Egyptian Kahk
By shahdan • January 19, 2020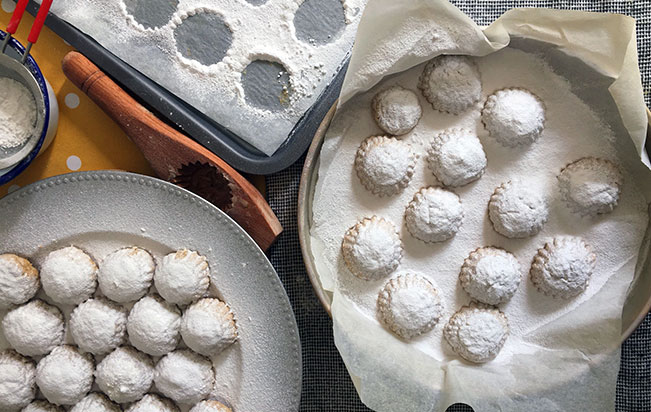 This is the recipe for the classic Egyptian Kahk that I bake every Eid Fitr with my children to keep the festive traditions in the family. The recipe is quite easy and hassle-free, but most importantly, it makes our favourite homemade Kahk which we find tastier and much more special than any other store-bought alternative.
The homemade Kahk Spices are just perfect, while the Kahk texture is just right, relatively soft but does not stick in the mouth. Sesame gives the Kahk a very delicate taste and aroma.
This recipe uses 500g of flour and 250g of ghee, a perfect quantity for a family of five.
If you live abroad and do not have access to Kahk Spices ريحة الكحك, substitute with 1 teaspoon of the following:
1/4 tsp ground cloves  قرنفل مطحون
1/4 tsp ground cardamom حبهان مطحون
1/4 tsp ground ginger جنزبيل مطحون
1/8 tsp ground cinnamon قرفة مطحونة
Ghee cannot be substituted with butter in this recipe.
Ingredients
500 gram

flour - دقيق

250 gram

ghee - سمن بلدي

1 teaspoon

yeast - خميرة

1 teaspoon

sugar - سكر

1/4 cup

water (warm) - ماء

2 tablespoon

sesame seeds - بذور السمسم

1 teaspoon

Kahk Spices - ريحة الكحك

1 pinch

salt - ملح

1 cup

icing sugar - سكر بودرة
Step by step
In a small bowl, mix water with sugar and yeast and set aside.
Place the flour in a bowl that can tolerate heat (preferably metal). Create a well in the middle, and add Kahk spices, sesame and salt.
Melt ghee in a pot until hot and fragrant.
Carefully pour the hot ghee over the flour mix. Use a metal or wooden spoon to stir the hot ghee with the flour and spices until well-combined. (The hot ghee added on sesame and spices will instantly create a beautiful aroma)
Add the water-yeast mixture and stir to combine. Make sure the dough has cooled enough to handle before you give it a final gentle mix with your hands to make sure all ingredients are well-combined.
Preheat oven to 190C and line two baking trays with parchment paper.
Use your hands to form round Kahk cookies and arrange them on the baking tray. Use a fork or special kahk tweezers to create design on the Kahk. These designs are important to help the sugar stick to the Kahk after baking.
Bake in the middle of the oven until lightly golden. It will take an average of 20 minutes but baking time may vary depending on different ovens.
Take the Kahk out of the oven and leave to cool completely before dusting with sugar.
To dust with sugar, simply place a couple of tablespoons of icing sugar in a sieve, and gently shake it over the cooled Kahk.
Store in an air-tight container.