Cheat Mango & Mint Pavlova
By shahdan • May 24, 2015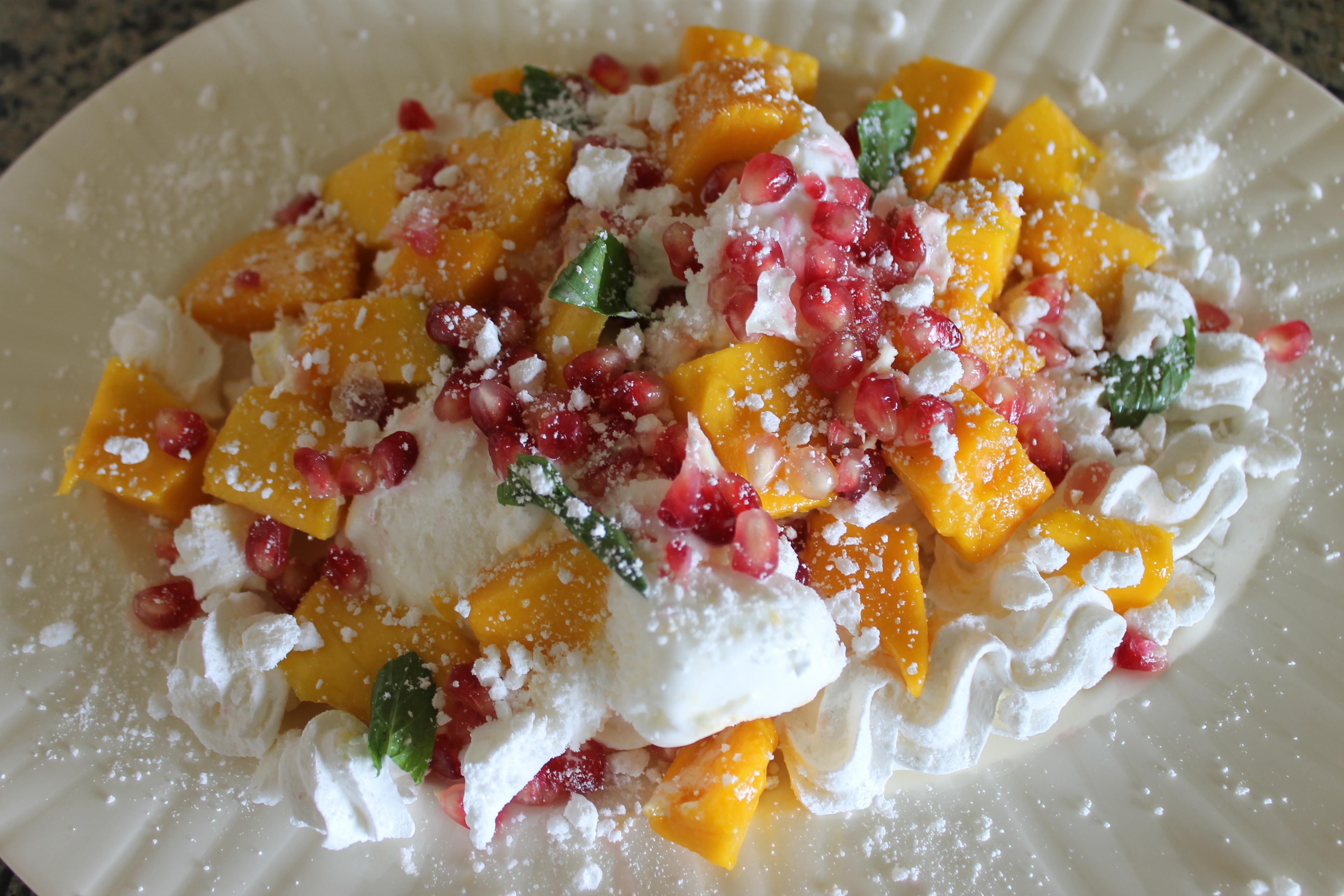 Nothing beats a home-made dessert when hosting a dinner party. With our Egyptian big impressive menus, we often find ourselves out of energy and time to prepare an elaborate dessert… When this happens, Pavlova is the answer! All you need is, good vanilla ice cream, store-bought meringue (that's the cheating part), and your favorite fruits. Pavlova is great with strawberries when it's strawberry season, and perfect with mangos during the hot summer days. Adding some pomegranate gives it taste, color and texture, while mint completes the dish with a fresh color and aroma.
Ingredients
1 box

meringue (ready-made on the supermarket shelf, in the bread section) - مارنج

1 box

vanilla ice cream - أيس كريم فانيليا

4 large

mangoes - مانجو

2 large

pomegranate seeds (or frozen berries) - بذور رمان

10 leaves

mint - نعناع

1 tablespoon

powdered Sugar - سكر بودرة
Step by step
Prepare your fruits ahead of time: peel and cut the mangos and put them in a sealed box in the fridge. Add a little sugar on the pomegranate, some mint leaves for a perfect aroma, then cover and put in the fridge.
Right before serving: scatter the meringue in a large plate. It looks way more interesting when it is scattered in a big serving plate, not in the traditional bowl.
Scoop the ice cream on the meringue. From experience, people appreciate vanilla ice cream much more than cream.
Add the mangos on top (the more the merrier), and sprinkle the pomegranate and its juices.
Finally decorate with more fresh mint leaves and crushed meringue. Serve immediately!