Slow-Cooked Asian Beef Cubes
By yasmine • February 15, 2022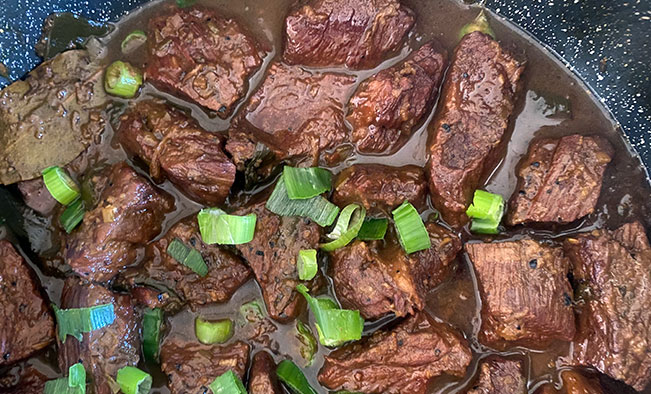 The combination of deep Asian flavours and tender meat makes this Slow-Cooked Asian Beef Cubes dish irresistible. With little hands-on time, this dish may take a long time on the stove but the result is definitely worth it. Wether you decide to serve it to your kids or guests – the dish will surely impress. Serve it next to Basmati rice or rice noodles with veggies.
Also, you might consider adding pumpkin or sweet potato cubes by pan-frying them separately and adding them to the meat 45 minutes before its done.
Check the meat cooking tips on this page as well.
Ingredients
1 kg

beef cubes - لحم كباب حلة

4

garlic cloves (minced) - فصوص ثوم

2 tablespoon

sesame oil (or olive oil) - زيت السمسم

1 teaspoon

black pepper - فلفل أسود

4 stem

spring onion (finely chopped - keep dark green parts for garnish) - بصلة خضراء

2 teaspoon

fresh ginger (grated) - جنزبيل

2-3

bay leaf - ورق لاورا

2.5-3 cup

chicken broth/stock - مرقة دجاج

1/2 cup

fish sauce - صوص السمك التايلاندي
Step by step
Marinate the beef cubes with minced garlic, vinegar and black pepper and set aside for 30 minutes or up to overnight in the fridge.
Before cooking the meat, make sure it is at room temperature for 20 minutes before. Heat 1 tablespoon oil in a large pan, slowly add beef cubes and pan fry on medium to high heat. Don't overcrowd the pan to allow each beed cube to get the necessary color.
Once you have the right color on the meat, set it aside and use the same pan to heat another tablespoon of oil. Add spring onions, ginger and bay leaf.
Stir the onions for a couple of minutes until they can get some color (about 5 minutes). Stir in the date molasses and fish sauce.
Add 2.5 cups of broth, stir to combine and bring it to a boil.
Add the meat back with all its juices. Once the broth is still boiling, lower heat and cover.
Check on the meat after 1 hour - if the water has reduced significantly add more hot broth (about 1/2 cup).
Check again after 30 minutes, if the meat is easily cutting then it is ready. The sauce would have halved and thickened too. Otherwise give it another 20-30 minutes until cooked through and the meat is tender and easily sliced.
Let it rest for a few minutes before serving. Garnish with the spring onions and fresh coriander leaves. Serve with rice or over noodles.