Grilled Chicken with Lemon & Thyme
By shahdan • March 22, 2015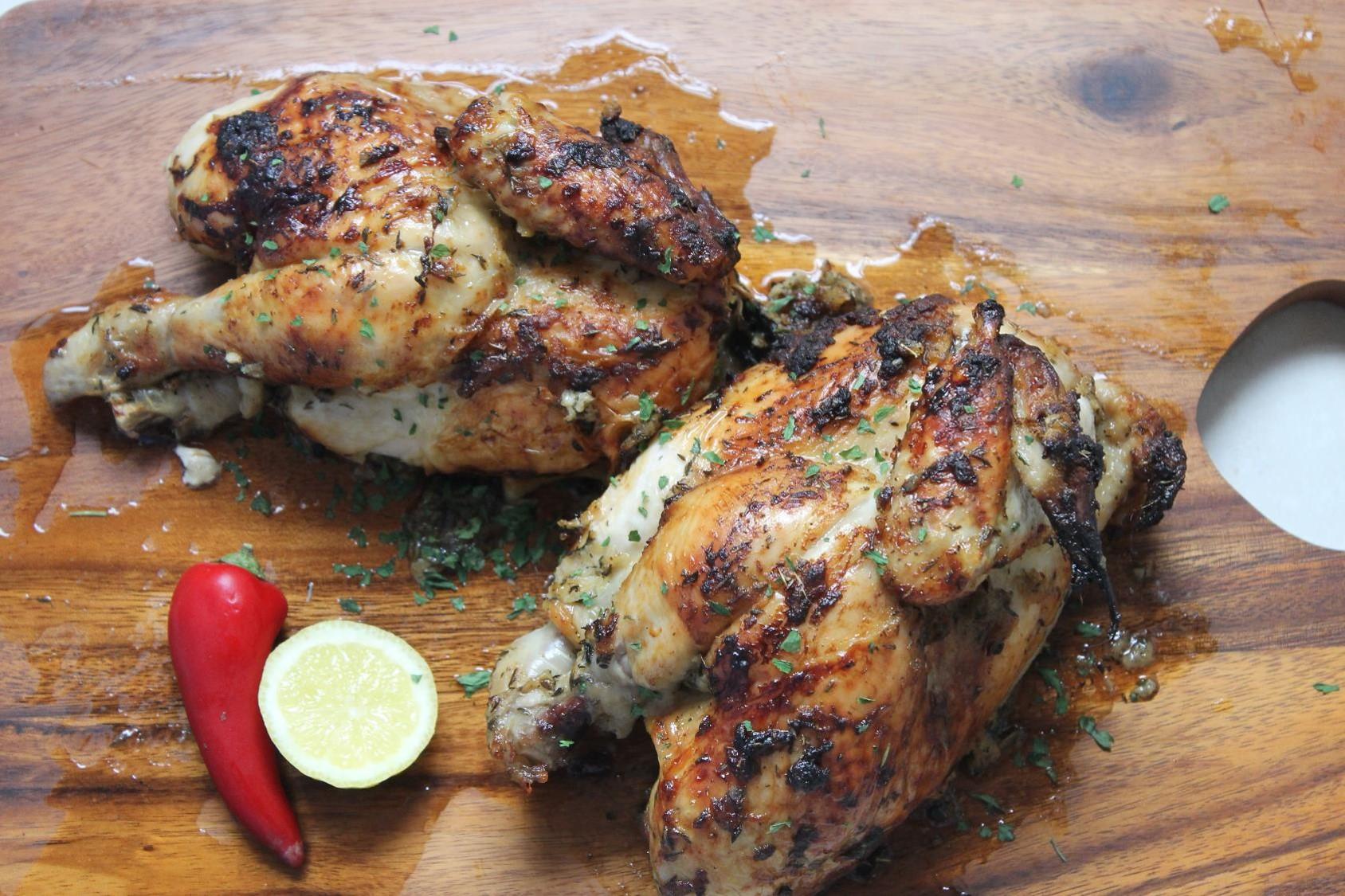 This is an easy everyday recipe for marinated chicken with lemon and thyme that tastes even better than some of Egypt's most famous grilled chicken restaurants. For great home results, I like to use a vertical chicken roaster (as per photo), which are inexpensive and available in most kitchen supplies' stores in Egypt. It gives me the best and easiest grilled chicken at home. This recipe is also perfect for outdoor BBQ and is easy enough for everyday.
Ingredients
1 large

chicken - دجاج

3 tablespoon

olive oil - زيت زيتون

1 large

onion (the juice of the onion only) - بصلة

1 tablespoon

Dijon mustard - مسطردة ديجون

1 tablespoon

thyme -dried - زعتر

3 large

lime (juice of 3 limes) - ليمون بلدي

1 tablespoon

vinegar - خل

1 tablespoon

honey - عسل

1/2 teaspoon

salt - ملح

1/4 tsp teaspoon

black pepper freshly crushed - فلفل أسود

3 large

garlic cloves crushed - فصوص ثوم
Step by step
In bowl or bag, mix all the marinade ingredients together.
Rub the chicken inside out with the marinade, cover and leave to marinate in the fridge for a couple of hours, and for best results, overnight.
If you choose to use a vertical roaster, place the chicken on the roaster and put a little water in the tray underneath so the juices that fall out during the roasting process don't burn.
Pop in a 180C preheated oven for around an hour to 75 minutes (depending on the size of the chicken.) Or just grill on your regular grill. Make sure not to over grill, you need a nice brown color from outside and white juicy meat inside.
Check on the chicken 2-3 times during the grilling time and spoon some of the chicken juices over the chicken.
Serve the chicken gravy that is collected in the tray underneath the roaster in a separate bowl to give people the choice to either add some, or just enjoy a tasty chicken without the extra fat.