Pizza & Pretzels: One Day, One Dough, and Pure IndulgenceBy CairoCooking • October 29, 2015
There is nothing quite as comforting as a home-baked treat with its heartwarming aroma filling the house. Ameena and Taymour Farid, a busy young married couple with a common passion for cooking, share their favorite authentic Neapolitan Italian pizza recipe. BUT, did you know that yummy pretzels can be baked from your leftover pizza dough? Yes! This is for real – the most delicious salty and chewy pretzels!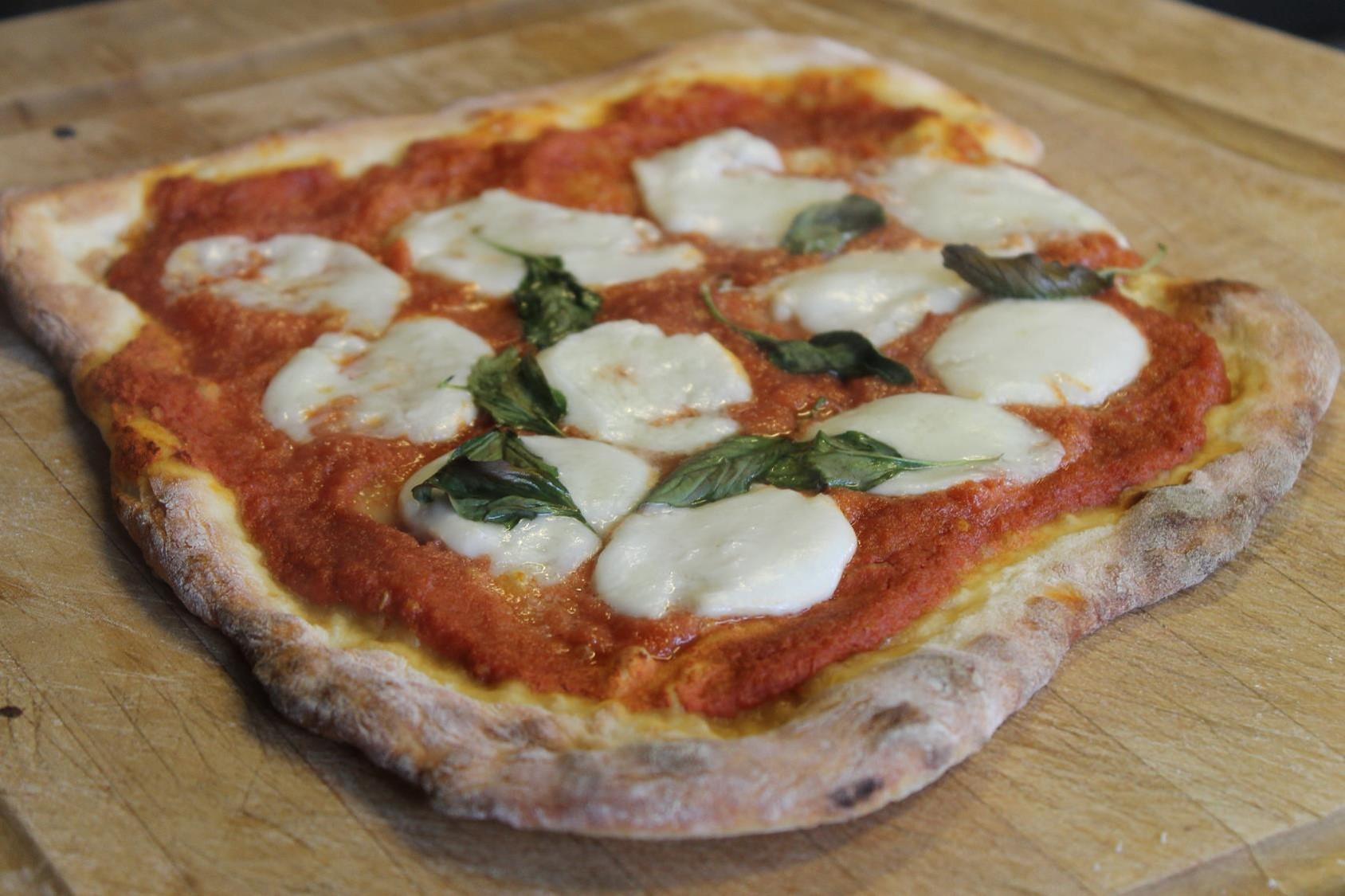 THE SETTING A modern yet warm kitchen with all the to-die-for gadgets and a beautiful black marble table top dusted with flour among signed up pizza dough ingredients. A brown Cocker jumping around with excitement, while Ameena and Taymour carefully pick the fresh basil leaves from their backyard herb garden. Watching this young couple (in their 20ies) prepare an authentic Italian restaurant-quality pizza in their own home kitchen was not just inspiring but also a great learning experience in baking with passion.
With no major baking experience, Taymour enjoys experimenting with new recipes from the Internet relying on international websites. He explains that he does not follow recipes blindly, since a lot of the ingredients are not easily found locally (such as this recipe's Italian tipo flour and  canned whole peeled Italian tomatoes). He relies on his intuition to find alternatives allowing him to remain adventurous with experimenting with recipes that are not straightforward. Even if something goes wrong, he believes, "messed up food is still the best food".
Ameena also mentions that the first time she prepares a new recipe is just an initial trial helping her understand what the recipe is all about, the tweaks to a successful final dish, and how she would make it her own.

THE RECIPE – Original recipe inspiration is at the following link: http://www.seriouseats.com/recipes/2010/09/hacker-free-neapolitan-pizza-for-a-home-kitchen-recipe.html – we are sharing the couple's own tried and tested version below.
In this recipe, the couple particularly liked the idea of the hot skillet on which they placed the rolled-out dough while adding the pizza toppings – this skillet helps start the baking process of the dough before it reaches the oven. After that, the pizza only needs 5 minutes in the oven (until the mozzarella melts).

THE RESULT – a rustic pizza base with bubbly mozzarella and Italian restaurant smell filling the kitchen. The dough is thin yet delicately layered for a perfect texture, with the freshness and aroma of the basil, the sweetness of the tomato and light chewiness of the mozzarella cutlets…
As we chewed one slice after the other (we genuinely did not want to stop!), Taymour decides to take the dough to the next level and turn the remaining batch into delicious, YET AGAIN, bakery quality pretzels! Like magic.
The recipe will follow.
Homemade Neapolitan Pizza
Makes 6 medium pizzas – Preparation: 15 min – Baking: 3 min – Dough Resting: 8 hours to 3 days
Dough Ingredients:
4 cups pizza flour (different kinds of flour differ in their protein content)

2 tsp. active dry yeast (original recipe calls for 1, but it is doubled here to reduce its density after a first trial)

350 ml water (1½ cups of water)

2 tsps. Sugar

2 tsps. kosher salt
Topping Ingredients:
4 tbsp tomato paste (from the jar)


4 fresh tomatoes

350 grams fresh mozzarella (these plump balls)

6 tbsps extra virgin olive oil

Fresh basil leaves ( as much as you like)
Dough Directions:
Combine pizza flour, salt, yeast, and sugar in a bowl. Add water and mix with your hands until the dough comes together.
Let the dough rest for 10 minutes then work the dough again for another 10 minutes. The dough should not be sticky and you may need to add additional flour. Divide the dough into 2 balls and transfer to sealed zipper bags in the fridge for 8- 72 hours. Each bag will yield 3 pizzas.
Dust your work surface with flour. Roll out the dough and stretch it all around then divide each dough into 3 equal sized dough balls. Grease 6 small bowls with oil, add one dough ball in each bowl, lightly grease it with oil and cover with cling film (plastic wrap).
Allow to rise for 2 hours in room temperature.
Although the dough recipe might seem a bit of a challenge, the good news is you can prepare it up to a couple of days in advance (it actually needs a good resting time). Choosing and adding the toppings is entertaining – you can even involve the children!
Tomato Sauce Directions:
Chop the tomatoes and transfer them in a blender with the tomato paste. Blend slowly with short intervals, the sauce should still have tomato chunks and should not be a puree. Original recipe calls for salt here but Egyptian tomato paste is usually salty, so salt is not needed.
Next, wash and dry the basil.
If you are using fresh mozzarella, cut it and place it between 2 clean towels to take away all its moisture. If mozzarella is not dry the pizza will end up being soggy. Skip this step if you are using the regular grated mozzarella from the supermarket.
Putting the pizza together:
Flip tone dough ball in a bowl of flour and pat it. Roll out the dough into a circle shaped thin layer on a floured surface, and use your hands to thicken the edges.
Dust an empty pizza skillet or stone with flour, tap out the excess, and place in a very high temperature oven (300 degrees) for 15 minutes until it's very hot.
Place the rolled out pizza dough on the hot skillet.
Work quickly to add 2 tbsps. tomato sauce (leaving the edges clean), mozzarella, basil, and a drizzle olive oil, then move your pizza to the already very hot oven. The dough will start its baking process once it is placed on the hot skillet. Leave the pizza in a very hot oven (300) on the highest oven rack level for 5 minutes or until the mozzarella melts. Enjoy the best home-made pizza ever.
Repeat to bake the rest of the pizzas, OR turn the pizza dough into pretzels
Finally, the pretzels using the same pizza dough –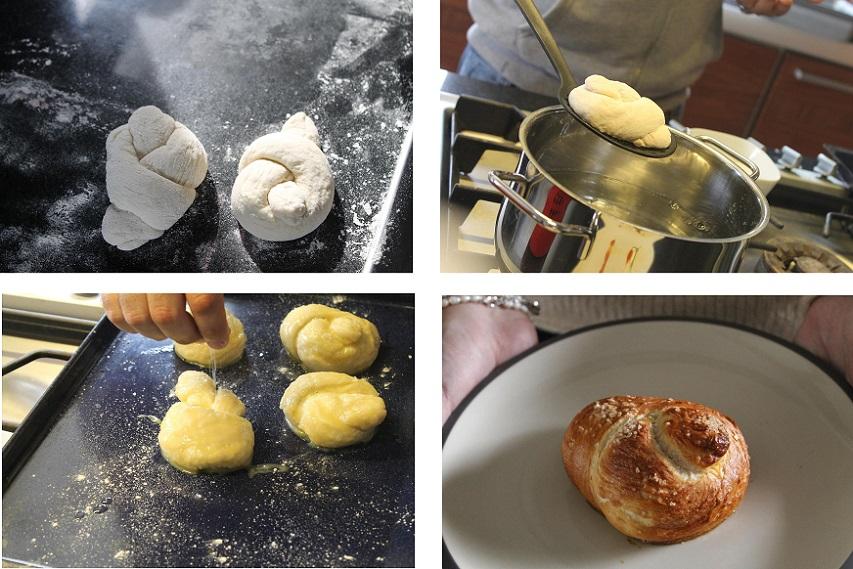 Now all you need is a pot of boiling water, baking soda (available in hyper supermarkets), kosher salt and an egg.
Pretzel Ingredients:
Pot filled with boiling water

2 tbsps Baking soda

1 egg

Kosher salt (ملح خشن)
Homemade Pretzels Directions:
Add 2 tsps. baking soda in a pot with boiling water.
Work each dough bowl into your preferred pretzel shape. You can roll it into a long baton then make a simple knot.
Using a slotted spoon slowly drop the pretzel dough one by one in the boiling water for 30 seconds each.
Gently remove your pretzel dough and put on a tray lined with parchment paper. Baste dough with beaten egg and sprinkle with kosher salt.
Bake in a 250 c oven for 10- 15 minutes until it's puffed and nicely browned.