Winter-Warming Roasted Chestnuts
By yasmine • December 15, 2015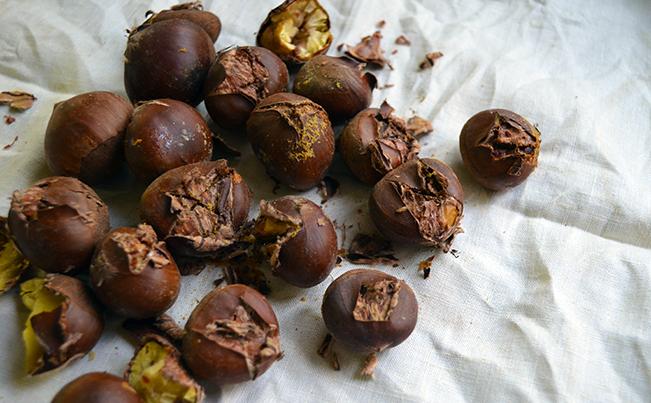 You know that cold winter night when you just need to cuddle on the sofa and nibble at something? Well… 'just-out-of-the-oven chestnuts' are definitely the answer!
This is not just a regular winter warmer, it is also a lavish treat to your guests this festive season. Just have them prepared in the oven, then as your guests arrive, switch the oven on and serve them warm  for an easy yet impressive appetizer.
Ingredients
500 gram

chestnuts (OR calculate 100-150g per person)
Step by step
Preheat the oven to 180C. Then wipe the fresh chestnuts with a towel (avoid water).
On the flat part of the chestnut, make a plus-sign incision using a sharp knife. Make sure you cut through the skin. This is not just to help it cook through in the oven, but also to let the hot steam out avoiding the chestnut exploding in the oven.
Spread the chestnuts over an oven tray making sure the incised side is up (to release the steam). Place the tray in the oven for 20-30 minutes (depends on the size of the chestnuts) or until the inside is softened and cooked.
Mount them together in a kitchen towel hold tight and start adding pressure. You will hear them crackling as some of the shell falls off. Even with the best roasting, only little of the shells falls off, the rest has to be done each on its own. Serve them warm and semi-shelled to your guests since this is half the fun!