The Ultimate Veteran Burger
By Alhossna Abdalla • December 7, 2015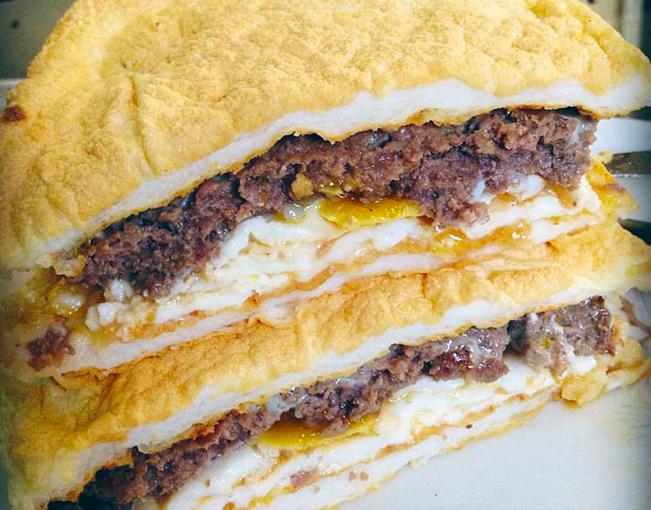 A 200 gram beef burger patty between two special buns of only egg whites, topped and bottemed with runny eggs and blue or cheddar cheese…
Ingredients
1 medium

burger patty (one 200 gram ready burger patty) - همبرجر

300 gram

egg whites (8- 9 large eggs) - بياض بيض

2 whole

egg - بيضة

1 1/2 tablespoon

cheddar cheese (OR blue cheese) - جبن شيدر

1 tablespoon

butter - زبدة
Step by step
Preheat oven to 150C & separate the eggs.
Beat the egg whites until very stiff peaks form. Spoon the egg whites onto the prepared baking sheet and form two large circles. Gently press with a spatula on the top of them to flatten just slightly. Bake for 10-15 minutes until the top is slightly brown.
Meanwhile, heat a large non stick pan and add the butter. Cook the burger for 3 to 5 minutes on each side. Add your favorite cheese on the top of the burger after cooking on both sides so the cheese melts. Remove the burger and set aside.
In the same pan, use the remaining grease to fry two eggs.
After the egg white buns are done, layer one of them with the eggs then the burger then top with the remaining bun.