Tropical Fruit Salad
By Shewekar Elgharably • July 30, 2016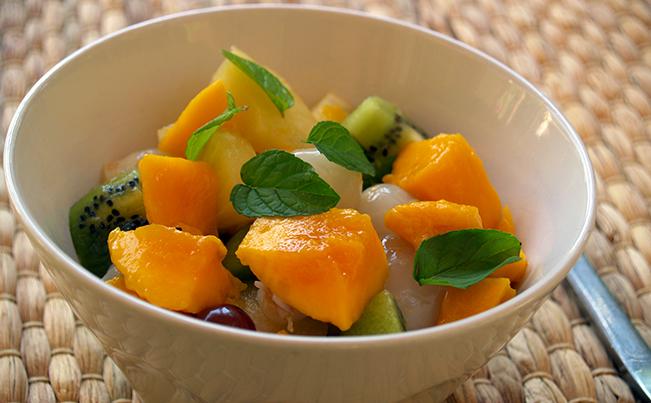 The tropical fruit salad is not just refreshing on a hot summer day, but it also elevates a simple fruits dish with the addition of coconut milk and some yummy exotic fruits. Such a simple yet impressive dish. Serve it at a brunch or a barbecue, for the kids or to take in your lunchbox.
Ingredients
2

kiwi (peeled & sliced) - كيوي

2 medium

mangoes (peeled & cubed) - مانجو

1/2

pineapples (peeled & cubed) - أناناس

8

lychee (peeled & sliced) - ليتشي

3 tablespoon

mint (about 10 leaves) - نعناع

1 cup

grapes (OPTIONAL) - عنب

For the sauce:

1/2 cup

coconut milk - لبن جوز الهند

1

lime (zest and juice of 1 lime) - ليمون بلدي

1/3 cup

passion fruit juice
Step by step
Place sliced and cubed fruits into a bowl and mix.
Mix coconut milk with lime zest and juice and passion fruit juice.
Add the sauce to the fruits and top with the mint leaves.