Traditional Macaroni Béchamel
By Mai Saleh • June 23, 2015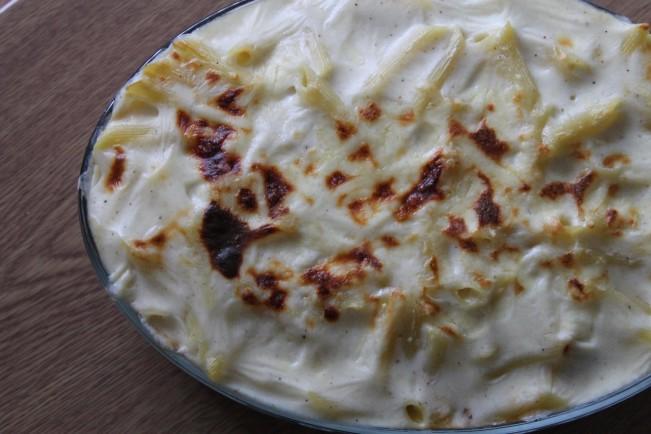 No matter how creative we cook, a classic macaroni béchamel will always be a family favourite! Recipe by Mai Saleh.
Ingredients
1 pack

pasta (400-500gram) - معكرونة

1/2 kg

minced meat - لحم مفروم

1 medium

onion - بصلة

1

egg - بيضة

1 handful

mozzarella cheese - جبن موتزاريلا

1 liter

milk - لبن

2 tablespoon

butter - زبدة

1 tablespoon

oil - زيت

3 tablespoon

flour - دقيق

salt and pepper - ملح و فلفل
Step by step
Cook the pasta as per package instructions and set aside.
Sauté the chopped onion in a little oil over medium heat until soft.
Add the minced beef to the onion and leave to cook and brown, then set aside.
To make the béchamel sauce, melt the butter and oil in a saucepan over medium- high heat. Once the butter is melted, whisk in the flour until smooth. Keep whisking for 2 minutes, then pour in the milk slowly, (bit by bit) until all the milk has been added. Keep whisking making sure there are no lumps. Add salt, white and black pepper to your taste.
Continue whisking until the milk is almost boiling. The sauce should now be fairly thick. Turn off the heat.
Mix some of the béchamel mixture into the pasta and some more into the minced meat.
Arrange half of the mixed pasta into a tajeen or oven-proof dish.
Next, layer the entire meat mixture over the pasta and add some mozzarella on top.
Add the rest of the pasta to form the top layer, then pour and spread the remaining béchamel sauce on top and add extra mozzarella and a beaten egg.
Bake it in the oven for 40 to 50 min or until the top is golden brown.