The Homemade Burger Battle
By maha mazhar • November 18, 2015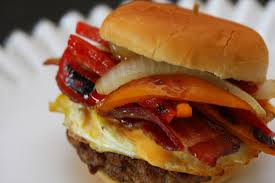 Ingredients
500 gram

minced meat - لحم مفروم

3 slice

bell pepper - فلفل ملون

1 tablespoon

oil - زيت

1 medium

onion - بصلة

3 slice

cheddar cheese - جبن شيدر

3 medium

bread - خبز

1 box

barbeque sauce - صوص الباربكيو
Step by step
Shape your minced beef into medium sized burgers and press the middle of the burger with your finger to avoid shrinking. Refrigerate for half an hour.
Heat one table spoon of oil on the grill. Sprinkle your burgers with only salt and pepper.
Place your burgers on the grill at a low heat and cover them for 10 minutes on each side to make sure they are well done yet still moist. Remove the burgers and set aside.
On the same grill, arrange the sliced bell peppers to grill and to absorb the smell of the grilled burgers.
Next, grill the burger buns top part on the same grill.
Assemble your burger sandwich by placing the burger on the bun, then add your cheese, onions, grilled bell peppers and barbeque sauce. Enjoy!