Baby Banana Ice Cream
By yasmine • March 10, 2016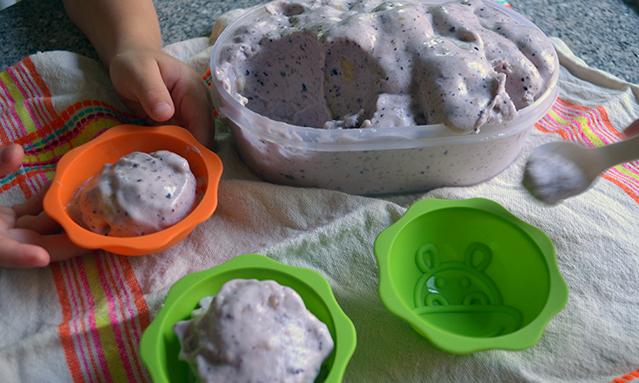 From 12 months.
Not just because of dairy, but also because extra cold contents are not as easy to digest as babies, this ice cream should not be consumed before 1 year of age. Starting then, your toddler will be hooked on these ice-creamed bananas. You can mix in any fruits your toddler would usually reject and he will enjoy it. Here, I used some blueberries for their antioxidant benefits.
You can add dates to the bananas in the blender to sweeten it more, or play around with spices like cinnamon and cocoa to introduce new tastes.
This 'dessert' or treat is just great for the summer to keep toddlers hydrated and happy.
For more toddler recipes, click here.
Ingredients
4

bananas - موز

4 tablespoon

full cream milk (OR almond milk) - لبن كامل الدسم

1-2 piece

dates (OR dried dates - OPTIONAL) - بلح

1 pinch

cinnamon powder - قرفة
Step by step
Cut and freeze overripe bananas for an hour.
In a blender, cream the frozen bananas. You can add a tablespoon of milk to ease the blender or half a date or a pinch of cinnamon to sweeten and spice the ice cream. Serve immediatly.
Note: You can add fruits like 6 cut strawberries, a handful of berries or mangoes to get a fruity ice cream.