Sweet Potato & Marshmallow Casserole
By Nour Naguib • February 8, 2016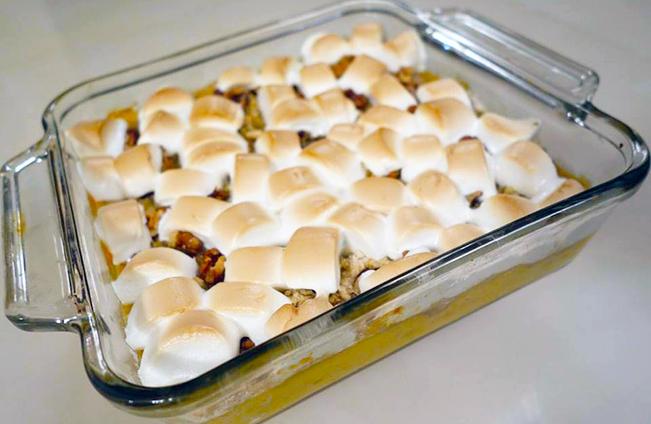 Delicious homemade combo of sweet potato, crumble and roasted marshmallows with the crunch added from the pecans. A fiesta in your mouth!
Ingredients
1 kg

sweet potato - بطاطا

2 whole

egg - بيضة

1/4 cup

sugar - سكر

1/2 cup

brown sugar - سكر بني

1/4 cup

butter (+2 tablespoons for crumbs) - زبدة

1/2 teaspoon

salt - ملح

2 tablespoon

flour - دقيق

2 cup

marshmallows - مارشمالو

1/4 cup

milk - لبن

2 handful

pecans - جوز أمريكي
Step by step
Preheat to 180C, grease a baking dish and set aside.
Roast sweet potatoes for 30-45 minutes until cooked through and soft from the inside. Keep oven on.
Scoop out all the flesh of the cooked sweet potatoes, place it in a large bowl and mash until smooth.
Add 1/4 cup butter, milk, granulated sugar and 1/4 cup brown sugar and mix to combine. Allow the mixture to sit and cool for a few minutes then stir in the eggs.
To prepare the topping, add brown sugar, flour and 2 tablespoons butter to a medium bowl. Use a fork to mix the ingredients and break up the butter making sure it distributes well with the rest.
Add sweet potato mixture to the baking dish, top with the crumbs topping followed by the pecans (optional). Bake for 30 minutes or until the top is golden and bubbly.
Finally, scatter the mini marshmallows on top in a single layer, pop it back in the oven for about 5 minutes or until they puff up and develop some color on top. Serve warm.