Strawberry & Cream with Assaleya Crumble
By Alia El Askalany • February 5, 2019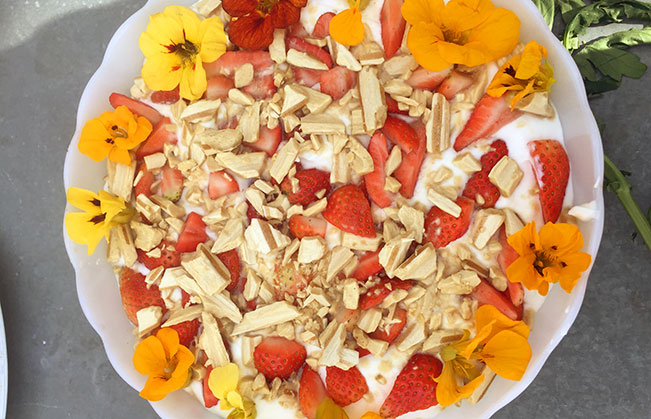 This Strawberry & Cream with Assaleya Crumble is the perfect dessert for a large gathering. It easily pleases the crowd… who wouldn't appreciate fresh cream and strawberries with a sweet crunch like no other?
My team and I came up with it for our Makar Farm Pop Up Lunch featuring Lebanese – Egyptian inspired dishes.
It also wouldn't let you sweat in the kitchen, since it is incredibly fast and easy to prepare.
Recipe by Alia El Askalany – also check out her Steak & Avocado Salad
Ingredients
500 gram

whipping cream - كريمة للخفق

200 gram

sugar (about 1 cup) - سكر

2 kg

strawberries (quartered) - فراولة

200 gram

Assaleya (roughly chopped)

edible flowers (optional for garnish)
Step by step
Use an electric mixer to whisk whipping cream and sugar into a stiff and thick consistency (about 5 minutes). Place in the fridge until used.
To serve, layer a bit of the cream at the bottom of a large serving bowl, top with the Assaleya crumble and then layer with strawberries. Repeat for another layer making sure you garnish with whole or crumbled Assaleya and edible flowers.
If you're not going to serve right away, just keep it in the fridge and top with the flowers and Assaleya right before you serve.