Spicy Avocado Cucumber Soup
By Shewekar Elgharably • May 20, 2016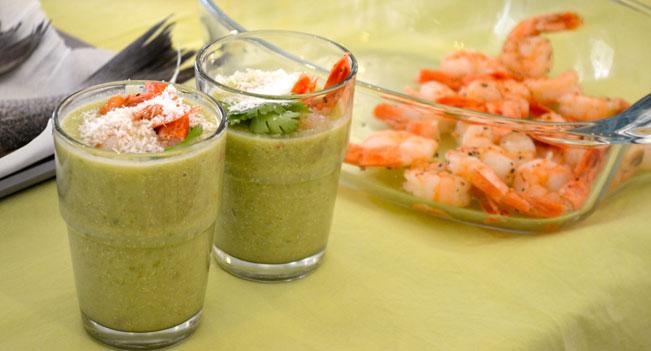 The avocado cucumber soup can be garnished with shrimps on top and enjoyed spicy. Super delicious, it is perfect for hot summer days and any guilt free eating plan.
Ingredients
8 large

cucumber (peeled, seeded & chopped) - خيار

2

avocado (coarsely chopped) - أفوكادو

2 teaspoon

green curry paste - صلصة الكارى الخضراء

2 teaspoon

raw honey - عسل نقي

2 teaspoon

lemon zest (grated) - قشر الليمون

1

red chili pepper (seeded & chopped) - فلفل أحمر حار

370 ml

coconut milk - لبن جوز الهند

3 tablespoon

lemon juice - عصير ليمون

16 medium

shrimp (shelled & deveined) - جمبري

1/2 cup

coconut flakes (for garnish) - رقائق جوز الهند

10 sprig

cilantro (for garnish) - كزبرة
Step by step
In a food processor, puree the cucumbers until smooth.
Add the avocados, curry paste, honey, lime zest & chile. Process until blended.
Add 3 1/2 cups of water, coconut milk & lime juice & process until smooth. Transfer the soup to a large bowl and season with salt. Cover and refrigerate until chilled, 15 minutes.
In a medium skillet, heat 1 tablespoon of olive oil until shimmering. Add shrimp, season with salt and pepper and cook over high heat for 2 minutes on each side.
Meanwhile, in a skillet, toast the coconut over low heat, stirring a few times, until lightly browned and crisp, 3 minutes. Let cool.
Ladle the soup into small bowls or cups, garnish with the shrimps, toasted coconut flakes and cilantro sprigs and serve.