Japanese Beef & Spinach Rice Wraps: Soboro Onigirazu
By Mido Barsoum • December 1, 2015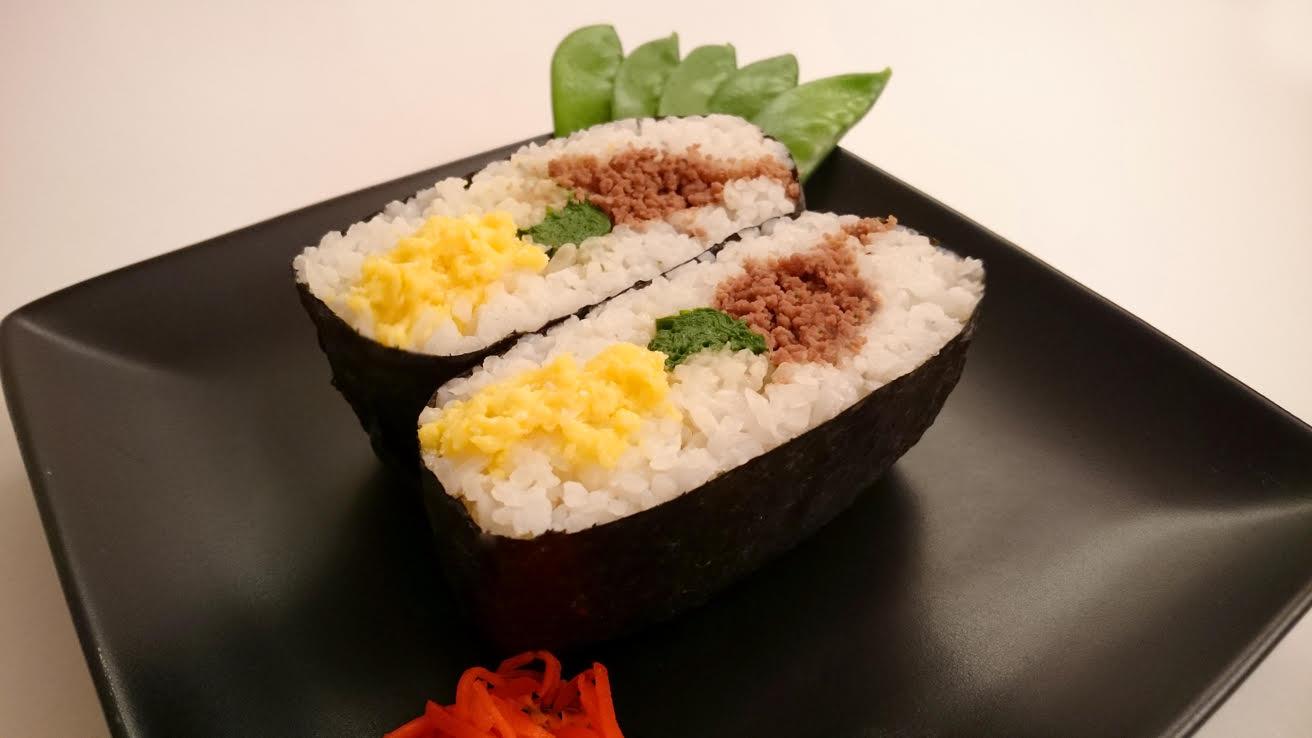 Ingredients
2

seaweed sheets

1 cup

rice (boiled) - أرز

150 gram

minced meat - لحم مفروم

50 gram

baby spinach - سبانخ صغيرة

1 1/2 tablespoon

sugar - سكر

1 tablespoon

soy sauce - صوص الصويا

1 teaspoon

fresh ginger (freshly grated) - جنزبيل

2

eggs - بيض

salt - ملح
Step by step
Cook the rice, if you haven't done that already.
Combine the minced beef, sugar, soy sauce and grated ginger in a small pot and mix well. If the mixture is too dry, add 1-2 tablespoons of water. Put the pot on medium-low heat and cook while stirring constantly to keep the beef from drying out. Once the liquid has almost evaporated completely, turn off the heat and transfer the beef mixture to a small dish.
Crack both eggs in a bowl and beat them thoroughly. Then, in a small pan over medium-low heat, keep stirring the eggs slowly until they cook and reach a fluffy, scrambled-egg consistency. Transfer to another small dish.
Bring lightly salted water to a boil in a small pot. Add the baby spinach leaves to blanch for just 1-2 minutes. Take out the spinach and add it to a bowl of icy cold water, to stop it from cooking further. Then drain it well and squeeze out the excess moisture with kitchen paper. Drizzle a few drops of soy sauce on the spinach, to bring out the flavor.
Now you are ready to assemble the Soboro Onigirazu: Place a sheet of Nori seaweed on a flat surface, rotated at a 45 degree angle (i.e. as if you would be looking at a diamond shape instead of a square). Sprinkle a very light layer of fine salt on the seaweed sheet. Put a small amount of rice in the center. Make sure you leave about 1.5 inches of plain seaweed around the rice. Arrange the minced beef, spinach and scrambles egg in a strip pattern on the rice bed. Add more rice on top of the fillings to cover. Now fold the four corners of the Nori seaweed over the rice, to close the parcel. Flip the closed parcel over onto a sheet of cling film and wrap it tightly to seal. Wait for 2 minutes, to give the rice a chance to fully dampen the seaweed and attach firmly.
Cut the Nori parcel in half with a sharp and damp knife. Garnish with your favorite greens/condiments and serve.