Classic Sharkaseya
By shahdan • May 29, 2016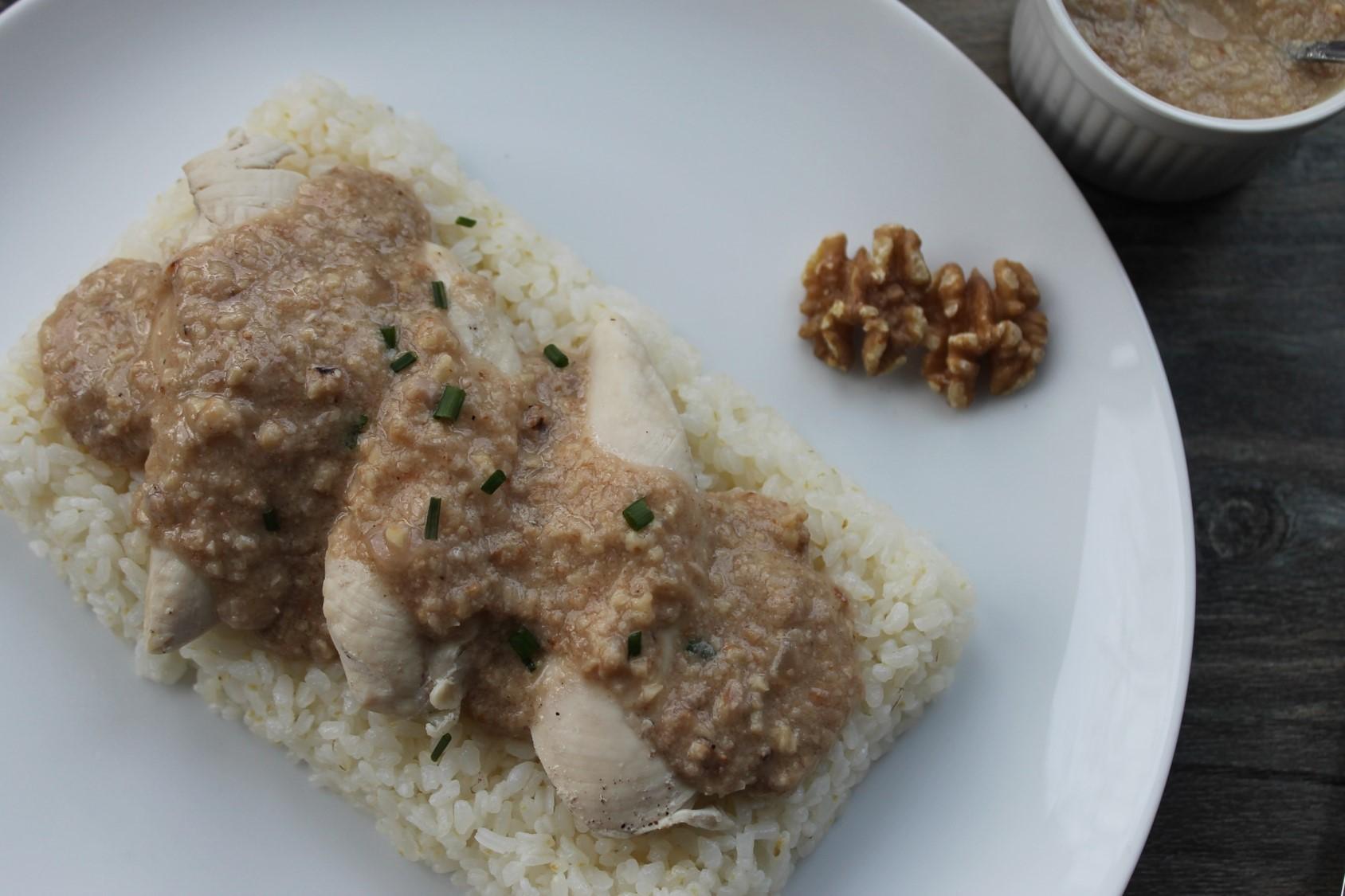 I find this recipe a lot simpler than several other Sharkaseya sauce recipes and the result is super rich & creamy Sharkaseya sauce over rice & chicken!
If you have boiled chicken (and its stock), plus cooked rice, the rest is much easier and quicker than you think.
This recipe is perfect for big gatherings. For your everyday, cut quantities in half.
For best results, use homemade chicken stock.
Tip: Keep extra stock on the side, because the sauce tends to thicken upon cooling. You will therefore need to add extra stock when you reheat.
Ingredients
2 medium

chicken (cooked) - دجاج

1 kg

rice (cooked) - أرز

4 cup

chicken broth/stock (1 liter) - مرقة دجاج

250 gram

walnut - عين جمل / جوز

4 slice

toast - توست

2 teaspoon

butter - زبدة

2 teaspoon

vegetable oil - زيت نباتي

1 medium

onion (grated) - بصلة

2 medium

garlic clove (minced) - فص ثوم

salt and pepper (to taste) - ملح و فلفل
Step by step
In a small blender, finely-grind walnuts if you like your sauce smooth, or leave it with little chunks if you like a thicker texture. Set aside.
Grind the toast into crumbs. Mix with walnuts and set aside.
In a sauce pan, heat oil and butter and sauté the onion until soft and yellowish but not brown. Add minced garlic and lower heat. Then add breadcrumbs and walnut. Stir for a couple of minutes then add chicken stock/broth.
Mix and leave to simmer on low heat until you achieve the required thickness. You may gradually add more stock if needed. Adjust salt and pepper.
To serve, put cooked rice in a serving dish. Arrange deboned boiled chicken pieces on top and carefully spoon some of the sauce over the chicken. Serve the rest of the sauce in a separate bowl or sauce boat.