Poached Egg with Fresh Spinach & Salmon
By shahdan • January 14, 2016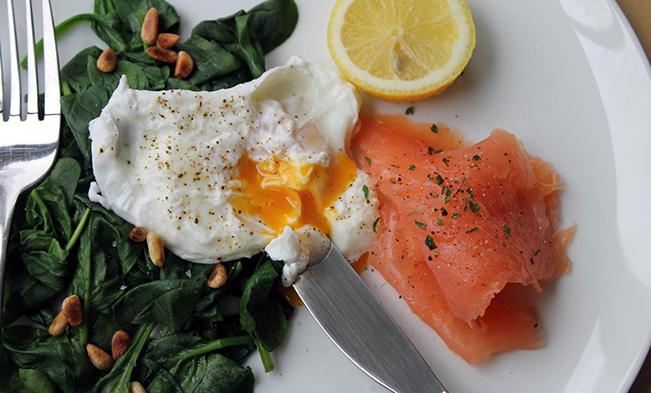 Because breakfast is the most important meal of the day, it is a great time to spoil yourself and your loved ones – the 'healthy' way – with this special breakfast! One poached egg is served on a bed of freshly steamed spinach leaves, with a side of omega-3 rich smoked salmon, and finished off with some toasted pine nuts!
Ingredients
1 large

egg - بيضة

4 cup

boiling water - ماء ساخن

1 tablespoon

vinegar - خل

2 handful

spinach - سبانخ

2 slice

smoked salmon - سمك السلمون المدخن

1 teaspoon

pine nuts (toasted) - صنوبر

sea salt (to taste) - ملح البحر

black pepper (to taste) - فلفل أسود
Step by step
Toast pine nuts: Add pine nuts to a small dry pan and cook for 2 minutes over medium heat, while shaking the pan occasionally until golden. Set aside.
To poach the egg: Boil water in the kettle. Pour the boiling water into a small to medium pot (it needs to be about three quarters full.)
Add the vinegar to the water and leave the water to simmer and bubble over medium heat.
In the meantime, gently break the egg in a small bowl.
While the water and vinegar are simmering, make a swirl in the water using a spoon (as if your mixing the water). When the water is spinning around, gently tip in the egg. This helps the egg white cook around the egg yolk.
Leave the egg to poach for 3 minutes only, if you like your egg yolk runny. (You will need to time it).
Using a slotted spoon, remove the egg carefully and place it on kitchen tissue to drain.
Wash spinach with fresh water, then place the wet leaves in a small pot over medium heat. Cover for 1- 2 minutes until spinach leaves are slightly wilted yet still look fresh and green.
To assemble the dish: Arrange spinach on the serving plate. Carefully place poached egg over spinach then add smoked salmon on the side. Sprinkle pine nuts on top.
Sprinkle sea salt and freshly cracked pepper to taste. Serve immediately.