Hearty Homemade Om Ali
By Mai Saleh • December 2, 2015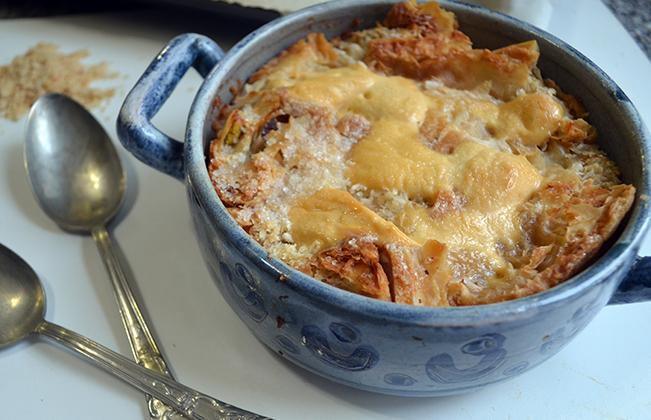 Tested by Cairo Cooking
We could not resist testing this yummy family recipe for the much loved Om Ali dessert. We doubled the quantities to create one family tajeen for (4-6 people). Accordingly, we used a whole 400 gram puff pastry pack. To this we added 1 liter milk (around 4 cups), 2 tablespoons butter and 8 tablespoons sugar. We added 4 tablespoons cream on top. The result was a hearty homemade Om Ali! A must-try! Have some extra milk ready just in case all the milk is absorbed by the pastry. We felt that 20-25 minutes were enough baking time in order to keep the pastry a bit soggy and not too dry inside.
Om Ali is a lovely old oriental dessert – here it is made easy!
(This recipe yields two small tajeens for two persons).
Recipe uploaded by Mai Saleh.
Ingredients
1/2 pack

puff pastry (about 200g ready puff pastry square pack) - عجينة الباف باستري

2 cup

milk - لبن

1 teaspoon

vanilla extract - خلاصة الفانيليا

1 tablespoon

butter - زبدة

4 tablespoon

sugar - سكر

1 handful

nuts (almonds, hazelnuts and/or coconut) - مكسرات

2 teaspoon

raisins - زبيب

6 teaspoon

cream - قشطة
Step by step
Preheat the oven to 180C. In a baking tray, arrange 6 squares of puff pastry. Bake until puffed and nicely golden. Set aside and leave to cool.
Use your hands to break 3 puff pastry squares into each of the 2 small tajeens. Add nuts and raisins to taste, then set aside.
In a small saucepan, gently heat the milk and mix it with the butter, sugar and vanilla. Pour the milk over the pastry in each tajeen, making sure it covers all the pastry.
Spoon the cream on top and bake in a 180C for 30 minutes or until the top is nice and golden.